Exclusive
Torture Or Interrogation? Ex-CIA Employee Reveals 'Sadistic,' 'Gruesome,' & 'Terrifying' Techniques Utilized Inside CIA's Top-Secret 'Black Site' Prisons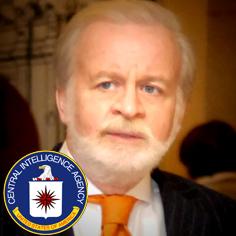 For years, the CIA's secret "black site" prisons were among the most notorious places in the world: With their locations -- and inmates -- a tightly-guarded secret, the terrorist interrogation centers have been a dark mystery -- until now.
Long-time CIA lawyer John Rizzo, who guided the agency through more than three decades of crisis and controversy, is the first employee to ever write, on the record, about the CIA's "black site" prisons in his new book, Company Man: Thirty Years of Controversy and Crisis in the CIA. And what he has to say may shock you.
Article continues below advertisement
"By 2005, the prisons had been up and running for almost three years, and I suppose I could have traveled to see them earlier than I did," Rizzo writes. "But I didn't consider doing so a burning necessity …" despite the fact that he was charged with making sure everything that occurred there was above-the-board.
Eventually, he says, "I decided I should see everything myself, not just to lay eyes on what was happening, but to meet with the interrogators, the guards, and everyone else on site to answer their questions and to offer them the assurances that everything they were doing was still fully endorsed by the nation's highest legal and policy-making officials."
As such, Rizzo says he made trips to two different prisons in 2005. Though the identities are a state secret, he admits that one was in a "hot and dusty locale."
During both trips, Rizzo claims he started off the visit by meeting with local authorities. "The one specific topic that was off-limits," he writes, "was the fact that the host government had agreed to let us build and maintain a prison tho hold Al Qaeda's most notorious operatives."
Article continues below advertisement
The prisons themselves "were hidden in plain sight," he writes, "each housed in a squat, nondescript building that blended into the surroundings. The unremarkable van carrying us would be whisked into an underground garage through an entrance tucked into the back of the building, where the steel gate magically opened just as our car approached it. Once inside, our waiting escorts took us through a number of locked security-cded doors and down some twisting hallways … Because there were no windows anywhere, it was hard to tell if we were now above ground level or still underground. The atmosphere was distinctly claustrophobic, and everything was quiet."
Each command center featured a bank of television screens, he claims, which showed the various terrorist inmates in their cells. Down in the detainment area, "The first things I noticed were the overhead lights, bright but not blinding," he writes. They were kept on, he claims, "24/7."
"And then I was struck by the music filling the cell block," he writes. "…syrupy, familiar." It was, he claims, pop ballads by Canadian pop-rock singer Anne Murray.
Article continues below advertisement
"We keep the volume up loud enough just so the detainee can't hear some sound or voice that he's not supposed to," Rizzo says he was told.
As for the cells themselves, "They seemed large enough as far as cells go," he writes, "maybe fifteen by twenty feet. Each had a stainless-steel toilet, a mattress, and a small table nailed to the floor, also in stainless steel. An individual shower stall was also located nearby. Painted concrete floor and walls. Bars, not slabs, on the cell door, to ease the sense of claustrophobia. Everything looking and smelling clean, almost antiseptic."
He recalls a chief warden telling him that the cells were "much better digs than what these characters had on the outside." But what the inmates experienced there was hardly a cakewalk.
Elsewhere in his book, Rizzo recalls the lengthy process by which the CIA and Department of Justice devised the list of approved "Enhanced Investigation Techniques," which included the notorious technique of water boarding.
Article continues below advertisement
Abu Zubayadh was the first terrorist to be subjected to the new techniques, and as such, the tactics were devised especially with him in mind, Rizzo, reveals. Starting with the "attention grasp," or grabbing Zubayadh "by the collar with both hands, pulling him closer to the investigator," the list went all the way up to water boarding -- and then one technique that the American public never heard of.
"There was another technique so gruesome that the Justice Department later stopped short of approving it," Rizzo reveals.
Still, even though he says he believed that the EITs "sounded sadistic and terrifying," Rizzo eventually signed off on their use with few regrets.
Given the alternative, that terrorists could be withholding information that might prevent another 9/11, he says he and other agents thought EITs were their best bet. He insists, "Every, and I mean every, career CIA employee who was involved in it believed in it wholeheartedly and unswervingly."
Do you agree? Let us know what you think in the comments!