Exclusive
Inside An American 'Torture' Chamber: Somali Pirate Who Hijacked Captain Phillips Speaks Out From Prison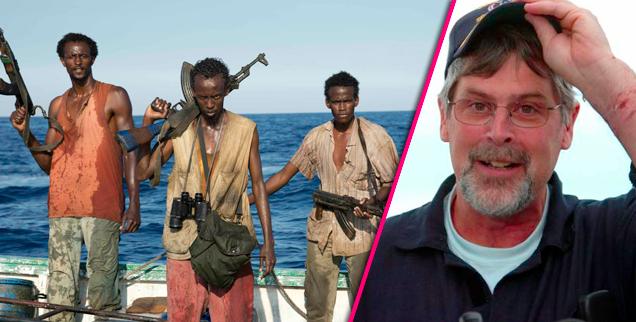 As Captain Phillips continues to rack in millions worldwide, there is one player in the story who's not basking in the spotlight. Abduwali Muse, the only surviving Somali pirate involved with the 2009 hijacking of the Maersk Alabama is currently locked away in federal prison in Indiana, and only RadarOnline.com has obtained an exclusive look inside the horrific conditions he has suffered for the past several years -- some say, unjustly.
Article continues below advertisement
Lesotho filmmaker Kaizer Matsumunyane, currently developing a film about Muse called The Smiling Pirate, has corresponded with Muse for years, and shared his insights on the situation with Radar.
"There is a saying that until the lion tells his story, the story of the hunt will always glorify the hunter," Matsumunyane tells Radar. "There are many versions to the story of the Maersk Alabama and I just want to tell a version that is not on the news or people know of."
VIDEO: Four Americans Remain Kidnapped At Sea By Somali Pirates
Though it may be easier for some to praise Phillips as the hero and blame the pirates as the villains, Matsumunyane says, "If you keep treating pirates as these faceless savages, without really knowing who they are and why they keep doing what they are doing,then piracy will continue to wreck lives. There is more to their story than what we get in the news …"
Article continues below advertisement
Matsumunyane first became intrigued with Muse's story when he saw a news report on Muse's incarceration that showed the man grinning in chains and handcuffs. "I couldn't understand who would be smiling in that position," he says. "That smile made me want to find out more about him."
The filmmaker sent letters for more than a year, and they all went unanswered. Little did he know that Muse had been thrown into solitary confinement under SAMs, or Special Administrative Measures, a type of special incarceration measures often used for terrorists like Boston Marathon bomber Dzhokhar Tsarnaev.
Muse, like many others imprisoned under SAMs, allegedly suffered harsh conditions that have been decried by Amnesty International USA, the Center for Constitutional Rights, and many other groups as inhumane and equivalent to "psychological torture".
"Muse says he was kept in solitary confinement for more than a year to make him plead guilty," Matsumunyane reveals. "He says he just wanted to plead guilty to get out of SAMs."
Article continues below advertisement
During Muse's interrogation, Matsumunyane claims, "His interrogators had photos of the dead friends from the hijacking and they kept showing him the photos and threatening that they would do it to him if he did not cooperate. He says he can still see those images of dead bodies.
"Others threatened that if he did not plead guilty, "his mother and family would be arrested as accomplices," Matsumunyane says.
Muse, then just a teen, began to crack under the pressure. According to a report by a prison doctor, Dr. Crowe, Matsumunyane claims, "Muse made several suicide attempts while in SAMs and experienced auditory and visual hallucinations. Dr. Crowe diagnosed Muse with depressive disorder, severe PTSD and anxiety disorder."
"He says that SAMs made him start losing his mind," Matsumunyane says. "He just pleaded guilty to get out."
Article continues below advertisement
But even that didn't stop his inner turmoil. After getting out of SAMs, Muse allegedly tried to commit suicide again, and launched several attempted hunger strikes.
"Once, it took me more than a month to get through to Muse," Matsumunyane says. "When he finally wrote to me, he said he was in solitary confinement and they took his privileges away again because he tried to commit suicide. He could not understand why instead of helping him recover emotionally from his suicide attempts, they punished him."
As of last month, however, he is doing better. In an email dated October 16, 2013, Muse writes, "I am feeling much better today. Yesterday, Tuesday, Oct. 15, 2013 began the second day of my holiday, Eid Mubarak. I really had a wonderful time of praying, games and food … Man was it a wonderful day. Just for a moment I felt free… I almost forgot I was locked away. That to me was really a wonderful feeling. All praise due to Allah."
Article continues below advertisement
But on October 11, Captain Phillips hit theaters, and life began to change again for Muse. In a recent email he wrote, "Since the movie has come out, things seem to be even more difficult than to become easier sic….Man I tell you it is such a problem that it is really crazy. I really feel sad sometimes with the way they treat me, but after now four years, soon five, I am starting to figure things out with them and they do not make me feel so hurt and hateful as I used to, because I am getting used to them."
Since his incarceration, Muse has learned to speak English and has been working in the prison, Matsumunyane says. From the $20 he makes each month, the government takes a chunk towards paying back the $500,000 fine that the Maersk shipping company was awarded in court as compensation for the hijacking.
And while some may say that this kind of a life is the price one pays for engaging in crime, Matsumunyane insists that there is another side to the story of the Maersk Alabama, and he is determined to tell it in his film.
The Smiling Pirate "is ready for production and I have completed the development phase of it," Matsumunyane says. "I was blessed to have the support of the Canada Council for the Arts, Toronto Arts Council, Goterborg International Film Festival, Eurodoc, Berlinale Talent Campus and people through Indiegogo in the development phase. At the moment I am securing funding for production."
"It is a hard story to tell because the moment people are vilified, no one wants to hear their story," he admits. "It's been a struggle trying to get funding to make this film, but I will not give up."