VIDEO: Four Americans Remain Kidnapped At Sea By Somali Pirates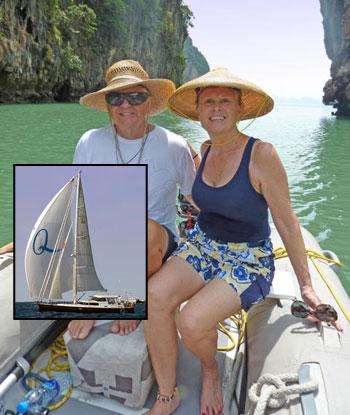 Four Americans remained kidnapped by Somali pirates heading toward their native coast early Monday, RadarOnline.com has learned, as a U.S. Navy warship and helicopters shadowed their every move.
The Americans -- Scott and Jean Adam from Marina Del Rey, California, and their friends Phyllis Macay and Bob Riggle from Seattle, Washington -- were aboard the Adams' yacht, named The Quest, en route from India to Oman on a Christian mission to pass out bibles in remote villages.
Article continues below advertisement
The pirates likely hijacked the ship on Friday because they figured the rich Americans on board would produce a large ransom, Steve Ganyard, the former deputy assistant secretary of state, told Good Morning America Monday.
"I think, however, these pirates have made a grave mistake and I think in this case they pushed the United States government just too far, and I think there will be a drama that will play out in the days to come," Ganyard said.
In 2009, after pirates attacked an American crew, Navy sharpshooters jumped into action, killing two of the pirates and bringing the ship's captain to safety.
Watch the video on RadarOnline.com
Paul and Rachel Chandler, an English couple, were released by pirates in November after they paid a near-$1 million ransom, after being held for more than a year after their hijacking.