Farrah Abraham's Dad Defends Her 'Couples Therapy' Charade: 'Is There Something Wrong With Financial Gain?'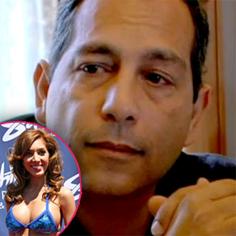 All's fair in love and war … and reality TV? As critics and Couples Therapy stars continue to slam Farrah Abraham for concocting a fake relationship to get her on the VH1 show, Abraham's dad, Mike, has stepped forward to defend his daughter's actions and insist that such shenanigans are par for the course in the reality TV industry.
Mike made the shocking comments in a post on his Facebook page on January 9. "Let the truth come out!" he wrote. "Supporters, we love you, wish you only the very best and appreciate each and every one of you! … Haters, I can only pray for you and hope only the very best for you with hope that your heart will warm and your judgment traits will cease …"
Article continues below advertisement
His followers quickly chimed in to slam Farrah's appearance, which they claimed was "staged for publicity." Indeed, as RadarOnline.com reported, her supposed "boyfriend" Brian Dawe has explicitly detailed how Farrah and producers tried to string him along into cooperating with the scam.
One commenter, Shellie Spiller wrote, "We have all heard the negative about the supposed publicity stunt … which may have been concocted to keep her relevant, which means financial gain."
At that, Mike chimed in, "Shellie, is there something wrong with financial gain? We all work in some type of industry … and the reality TV industry has their twists and process, that if you're not in that industry, it's hard … to understand."
Mike will get the chance to defend his daughter on-air later in the season, when he and his wife Debra will make an appearance.
Do you think he's right, that Farrah was totally justified in trying to create some drama for TV? Or were her actions beyond the pale? Let us know in the comments!