Exclusive
'Duck Dynasty' Family Once Hired Openly Gay Baker: 'I Sat At The Table They Prayed At, I Broke Bread With Them'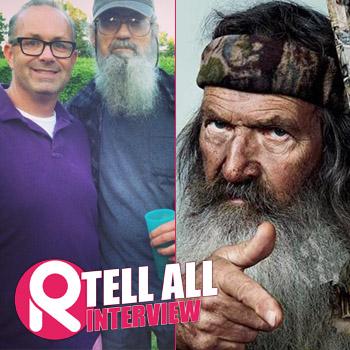 Article continues below advertisement
"They were doing a party for Sadie Robertson's Sweet 16 and they had me do the cake for the event. Korie (wife of Duck Dynasty CEO Willie Robertson) texted me about it so I drove down and did the cake. They were great. It was a good experience," Qualls told Radar.
"Sunday morning after the party I went to church with them and then after church we all went and had lunch together. They rented out a room at a BBQ joint there. We went to Willie and Korie's and hung out at their house for a bit, and then we went to Miss Kay and Phil's house and she cooked a huge dinner for all of us and it was fun. We had a good time!
"I never thought anything about me when I was there."
But in Dec. an interview with Phil was released by GQ magazine in which he blatantly and graphically described his views on homosexuality, stating "It seems like, to me, a vagina — as a man — would be more desirable than a man's anus. That's just me. I'm just thinking: There's more there! She's got more to offer. I mean, come on, dudes! You know what I'm saying?"
Article continues below advertisement
"Start with homosexual behavior and just morph out from there," he continued. "Bestiality, sleeping around with this woman and that woman and that woman and those men."
What followed was a whirlwind of backlash and public outcry — and Qualls says he was disappointed, shocked and hurt at the statements Phil made.
"
When the article came out I was really taken aback. What was so strange about it, when I went to their house I thought it's cool that they're this open-minded and accepting," Qualls said.
"He has his opinion about homosexuality. For me, the problem that I had with it, and when I lost a little bit of respect for him, was how graphic he was about it. Being gay does not define who I am. What made me disappointed was that you have your opinion and that's fine, and you have your belief and that's fine, but coming from the same church-going background, a sin is a sin is a sin…God doesn't categorize the level of the sin.
Article continues below advertisement
"If you're standing up there in church, and he did, I heard it with my own ears, saying we're all sinners and have the grace of God and that's the goodness of grace…then what the hell are you doing talking about penises and vaginas and anuses?! That it such a hypocrite and it just turned me off."
Qualls also said he feels celebrities, including reality TV stars, have a certain obligation to watch what they say.
Duck Dynasty: Family Stands Behind Phil, Gingrich Gripes & More
"When people have the power of the attention of so many, they have a level of responsibility to edit what they say or how they disseminate their opinions. He spoke about it as if we're animals, and we're not animals. And he was very graphic in his descriptions and I felt that was very rude and inappropriate on many levels," he told Radar.
Article continues below advertisement
"Korie and Willie were very kind to me and I never felt weird, but now looking back, lord, what they must have thought of me! I never dreamed that Phil felt that way. And I don't give a crap how he feels, he just didn't have to be so graphic. People automatically think gay people are dirty or pedophiles or whatever and it's just simply not true. And he didn't help that fight."
Shortly after Phil's statements went wide, video footage was uncovered from earlier in the year where he stated homosexuals are "full of murder, envy, strife, hatred" and went on to say "they are insolent, arrogant, god haters, they are heartless, they are faithless, they are senseless, they are ruthless, they invent ways of doing evil!"
Qualls said he doesn't understand what gives them the right to be so judgmental, and now feels like they were only nice to him because they had to be.
"As kind as I was to them and they were to me, that just meant they were graciating on presence to get what they wanted. I sat at the table they prayed at. I broke bread with them. But what must he have been thinking?!" he concluded.
"This man that is holier-than-thou used to be one of the most hell-raising men, and for him to be so judgmental — I've never been so shocked and disappointed."