'Duck Dynasty' Scandal Deepens: New Video Shows ANOTHER Phil Robertson Anti-Gay Rant -- Homosexuals Are Filled With 'Murder, Envy, Strife, Hatred'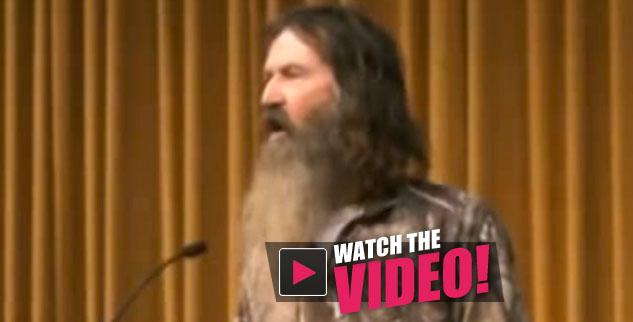 Article continues below advertisement
"You suppress the truth about God by your wickedness and you know what happens? Wrath is poured upon you," Robertson said in a video posted on YouTube in March 2013.
"First they say there is no God," the deeply religious man says about 16 minutes into the video, and declares when two people of the same sex "bow down to each other, the first thing you see coming out of them is gross sexual immorality
"They will dishonor their bodies with one and other. Degrade each other. Is that going on in the United states of America?
"Women with women. Men with men. They committed indecent acts with one another. And they received in themselves the due penalty for their perversion. They're full of murder, envy, strife, hatred. They are insolent, arrogant, god haters, they are heartless, they are faithless, they are senseless, they are ruthless, they invent ways of doing evil!
Article continues below advertisement
Celebs Who Have Come Out As Gay Or Bisexual
In response to the network's removal of Phil from the show the family released a statement Thursday via their website, saying in no uncertain terms they come as a package, and "cannot imagine the show going forward" without Phil.
The full statement read: "We want to thank all of you for your prayers and support. The family has spent much time in prayer since learning of A&E's decision. We want you to know that first and foremost we are a family rooted in our faith in God and our belief that the Bible is His word. While some of Phil's unfiltered comments to the reporter were coarse, his beliefs are grounded in the teachings of the Bible. Phil is a Godly man who follows what the Bible says are the greatest commandments: 'Love the Lord your God with all your heart' and 'Love your neighbor as yourself.' Phil would never incite or encourage hate.We are disappointed that Phil has been placed on hiatus for expressing his faith, which is his constitutionally protected right. We have had a successful working relationship with A&E but, as a family, we cannot imagine the show going forward without our patriarch at the helm. We are in discussions with A&E to see what that means for the future of Duck Dynasty. Again, thank you for your continued support of our family."
We'll keep you updated on this developing story, right here on RadarOnline.com.
youtube=https://www.youtube.com/watch?v=Fk5VmM4pRhM&w=560&h=315