Religious Group Petitions For Phil Robertson's Reinstatement On 'Duck Dynasty': He Shouldn't Be Punished For Quoting The Bible!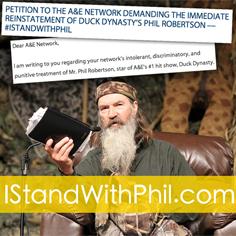 Article continues below advertisement
"Simply put, Phil Robertson is being censored and punished for quoting the Bible, and A&E's treatment of him is punitive and highly discriminatory, " said Chris Stone, founder of Faith Driven Consumer.
"Everyday people will not stand for this, they know bullying and violation of religious freedom when they see it. A&E's actions are censoring Faith Driven Consumers and eliminating them from an entertainment choice that they have overwhelmingly supported."
The 46 million strong Faith Driven Consumer alliance is rallying in support of Robertson and closely watching the network's response.
The IStandWithPhil.com online petition cites the A&E network's "intolerant, discriminatory, and punitive treatment" of the Duck Dynasty star, noting that "A&E's position, which in your own words is 'championing' the gay and lesbian community… effectively censors a legitimate viewpoint held by the majority of Americans."
Article continues below advertisement
It also calls for respect for the millions of viewers of the show, and demands that the network immediately reinstate Robertson and "formally apologize to him, his family, and the millions of viewers who tune in every week, stand by him, and share his worldview."
As RadarOnline.com has reported, Robertson came under fire for the explosive anti-gay and controversial racist remarks he made in a recent interview with GQ.
"It seems like, to me, a vagina — as a man — would be more desirable than a man's anus," Robertson says in the January issue of the men's magazine. "That's just me. I'm just thinking: There's more there! She's got more to offer. I mean, come on, dudes! You know what I'm saying? But hey, sin: It's not logical, my man. It's just not logical. Start with homosexual behavior and just morph out from there. Bestiality, sleeping around with this woman and that woman and that woman and those men."
The A&E network announced Wednesday that the star would be placed on "indefinite hiatus."
"We are extremely disappointed to have read Phil Robertson's comments in GQ, which are based on his own personal beliefs and are not reflected in the series Duck Dynasty," A&E said in a statement. "His personal views in no way reflect those of A&E Networks, who have always been strong supporters and champions of the LGBT community. The network has placed Phil on hiatus from filming indefinitely."