'American Womanhood Has Hit A New Low!': Duck Dynasty Stars Reveal How Female Fans Proposition Them Nonstop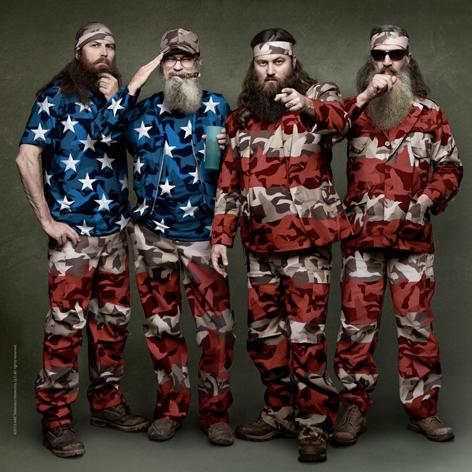 Move over Brad Pitt. The men of Duck Dynasty are America's unlikeliest new sex symbols, and the Bible-toting backwoods hunters are not happy about it. Phil, Si, Willie, Jase and Jep Robertson described the new attention they're receiving from female fans in a new interview with Men's Journal.
Discussing their newfound female attention, Phil said, "The scary part is that hundreds, if not thousands, of women want to marry Si. 'Course he's already married now about 40 years, but womanhood has dropped to a new low in America if all those women want to marry Si."
Article continues below advertisement
Fans want to do a whole lot more to Jase, according to Men's Journal, which claims that a group of "girls from New Jersey" recently approached him in a parking lot and asked him to join them for some fun in their hotel room. He reportedly declined.
Even patriarch Phil says that women have come on to him "many, many, many" times since he found fame on the show.
"They walk up with a pair of little bitty, bitty bikini underwear and say, 'Will you sign these?'" he claims. "Well, my first question is, 'Are they clean?' But, see, as I move forward on my travels, I make sure I take two things with me: my Bible and my woman, Miss Kay. You see what I'm saying? I've put my heathen days behind me. I'm not going down that path again."
The Robertsons' sex symbol status is all the more baffling considering their low-maintenance personal grooming habits.
Phil, head of the bearded clan admits, "There's not a lot of personal hygiene going on," and says they only brush their teeth once a day, never comb their hair, do not floss their teeth, rarely shower or wash their face, and do not use deodorant."
Willie, at least, does shampoo his wild facial hair once in a while. "I do put shampoo in it," he reveals. "And a little conditioner after that. It's probably been 10 years since I shaved. I just looked so weird without it, like half my face was missing."
But it's not their looks that viewers are tuning in for. Phil explains, "We're trying to infuse a little good into a culture in which gentleness, patience, kindness, self-control, love, joy, and peace have become abnormal."