A&E Network Braces After Death Threats, Suspicious Packages Surface After 'Duck Dynasty' Scandal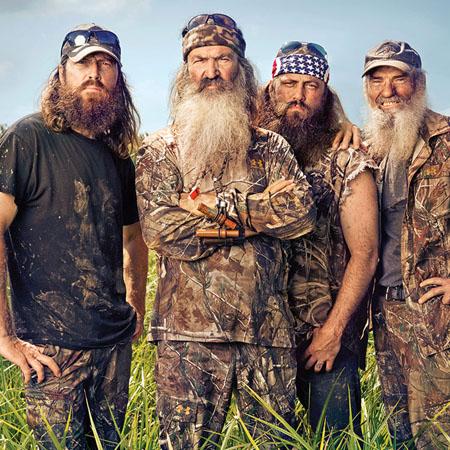 As the scandal surrounding A&E and Duck Dynasty continues to spread like wildfire, the network has doubled down on security Friday as death threats and suspicious looking packages have arrived from fans furious after star Phil Robertson's was suspended after making controversial comments in a new GQ piece.
The organization was taking every precaution necessary, Deadline.com reported, as the stalemate between the network and reality family trudges on.
Article continues below advertisement
An insider told the website that the network is "always talking" with the family.
The writer of the article, Drew Magary, said his main goal with any profile piece is to avoid being "unfair, predictable and dickish," and characterized Phil as a "decent guy" and "a deeply religious fellow who takes his Bible straight, no chaser … and has decidedly retrograde, ripped-from-Corinthians views on topics like abortion and homosexuality."
Magary said of the firestorm resulting from his article: "Whatever fuss arises out of his comments…will soften him a bit toward what he believes to be wicked behavior."
As we previously reported, the Louisiana native caused a major stir in telling how he doesn't understand how homosexuality between men, saying, "It seems like, to me, a vagina -- as a man -- would be more desirable than a man's anus. That's just me. I'm just thinking: There's more there! She's got more to offer. I mean, come on, dudes! You know what I'm saying?"
Article continues below advertisement
In response, the Robertson clan released a statement Thursday via their website, saying in no uncertain terms they come as a package, and "cannot imagine the show going forward" without Phil.
The full statement read: "We want to thank all of you for your prayers and support. The family has spent much time in prayer since learning of A&E's decision. We want you to know that first and foremost we are a family rooted in our faith in God and our belief that the Bible is His word. While some of Phil's unfiltered comments to the reporter were coarse, his beliefs are grounded in the teachings of the Bible. Phil is a Godly man who follows what the Bible says are the greatest commandments: 'Love the Lord your God with all your heart' and 'Love your neighbor as yourself.' Phil would never incite or encourage hate.We are disappointed that Phil has been placed on hiatus for expressing his faith, which is his constitutionally protected right. We have had a successful working relationship with A&E but, as a family, we cannot imagine the show going forward without our patriarch at the helm. We are in discussions with A&E to see what that means for the future of Duck Dynasty. Again, thank you for your continued support of our family."
We'll keep you updated on this developing story, right here on RadarOnline.com.