Charlie Sheen's Porn Star Girlfriend Challenges Denise Richards To Include Her In The Children's Lives: 'Think About The Babies & Not One's Own Frustration Or Disagreements'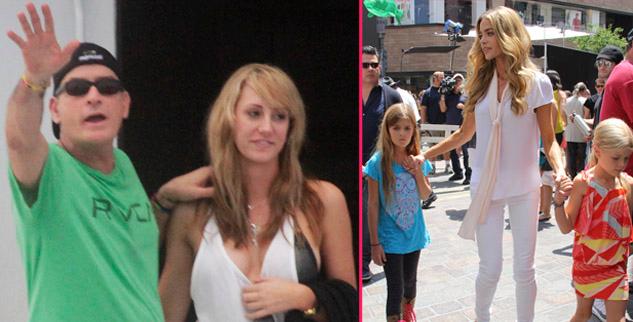 The bitter and public family feud that has engulfed Charlie Sheen and Denise Richards has taken a dramatic turn, with the porn star girlfriend of the actor CHALLENGING his ex-wife to include her in raising the couple's two children, Lola and Sam.
In a message posted on Twitter, Brett Rossi — star of such flicks as "She Loves My Big Breasts 2" and "Bondage Tongue Bath" — taunted Richards, 42, to meet with Sheen's attorney Mark Gross (or "MG" as she referred to him in the lengthy letter) in a bid to "discuss how I can help the children have a happy and loving relationship with BOTH sides."
Article continues below advertisement
She wrote, "I am more than willing."
Rossi, who debuted as the 48-year-old Anger Management star's latest conquest in November, said she could "no longer hold my tongue" in the wake of RadarOnline.com's revelation that Sheen had privately ordered his ex-wife to move out of his swanky Mulholland Estates neighborhood.
One source had suggested part of the reason was because Rossi had insisted on the move.
But the adult actress, firing back, insisted she was a "child of divorce" who advocates for children to have a "loving, healthy relationship with BOTH parents."
"I am only here to enhance things such as the note that was so delicately, respectfully and beautifully written to you," Rossi wrote.
"I don't care about the 'adult' side of things, that is on you such as I have never cared to invest energy into things that are a waste of energy. Think about the babies and not one's own frustration or disagreements. It should always be about THEM. You protest privacy yet running to the press doesn't make you exactly a saint.
Article continues below advertisement
MORE ON:
Celebrity Justice
"Often when parents have disagreements, the children and their best interests get lost," Rossi wrote.
"People forget to shield their children and share too much with them forgetting that they are just children and their minds can't fully comprehend 'adult' disagreements. Thus, resulting in the children becoming hurt and confused. It is the parent's job to protect and keep them shielded from the unnecessary.
Article continues below advertisement
"I would like to see evidence providing that my statement above is FALSE. Until then, these stories will and ALWAYS will be irrelevant and fabricated. As well as not in the best interest for ANY child. I will no longer take the abuse from the press as I have nothing to do with other people's actions or disagreements. This is ancient history; google it."
She signed off the missive, "Xo."
As RadarOnline.com previously reported, the outspoken Sheen went on an EPIC rant on Tuesday, during which he labelled Richards as a "pig" and a "media ho."
"Hey Denise, I own the farm. Yet you are only pig in the pen," he taunted. "To sling mud, bile and shite every inch your evil cloven hoofs Trample."
It's not the first time Sheen has released an expletive rant involving Richards — who has seemingly done nothing but try to help him and his children, taking in his twin sons when their mother Brooke Mueller was taken on a psych hold and put in rehab.
Whose side are you on? Denise or Rossi? Should Denise allow her children to spend time with the porn star?