Charlie Sheen Keeps Fans Guessing With Tat Tweet, Calls Ashton Kutcher 'Lame'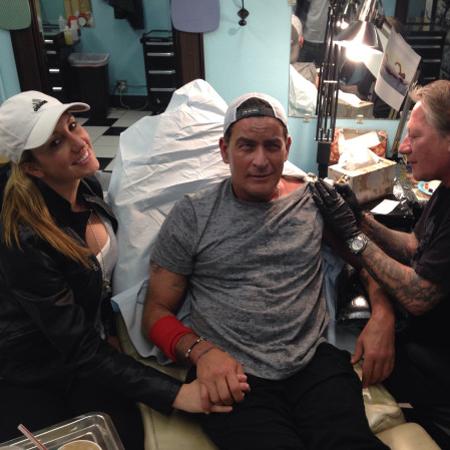 With speculation swirling that Charlie Sheen married his porn star gal pal Brett Rossi to ring in the new year, the actor kept his fans guessing Sunday as he tweeted pics of himself getting a tattoo, as well as taking a small dig at the actor who followed him on Two and a Half Men, Ashton Kutcher.
Sheen uploaded a pic of himself getting inked on his left shoulder, flanked by the tattoo artist and Rossi. In his cryptic style, he wrote, "what do u get wen u organize a Greg James a Sheenius and a Skottie so Hottie? J Ballard snapin a JAWS tat foto! c #"
Article continues below advertisement
As we previously reported, Sheen teased fans that he tied the knot with Rossi by tweeting a pic of the two of them in Iceland, saying he "GOT MARRIED!" (While we reached out to Sheen for comment but didn't hear back, the actor's rep told another website the Anger Management star "was just joking around.")
Earlier in the day, Sheen uploaded a pic of a screen grab promoting his former show Two and a Half Men, praising former co-star Jon Cryer while making some not-so-nice comments on Kutcher, who succeeded him on the top-rated comedy two-and-a-half years ago.
He wrote, "hey Jon!!! u r a GENIUS!!! I effin love and MISS YOU old pal! Q; who's your lame side-kik? c #NiceTryCanonBoy #CH." ("Canon boy" is likely a reference to Kutcher's one-time endorsement deal with camera manufacturer Nikon.)