Exclusive
Charlie Sheen Snaps On Former Manager, Calls Him A '2 Dollar Wh*re Traitor' And 'Desperate Piece Of Slime Shite'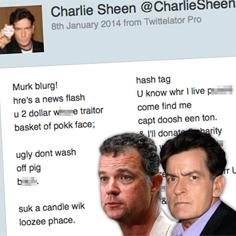 Charlie Sheen blasted his former manager, Mark Burg, in a long Twitter rant calling him a "2 dollar wh*re traitor" and a "desperate piece of slime shite" -- later deleting the outrageous diatribe, but not before RadarOnline.com exclusively snapped a screen grab.
In the message originally posted on Jan. 8, Sheen directed his message to "Mark blurg!" and even challenged his once-trusted associate to come to his home to settle the beef between them.
Article continues below advertisement
As RadarOnline.com exclusively reported in Dec., Burg — along with publicist Larry Solters and entertainment lawyer Jake Bloom — resigned from their posts on Sheen's team because they were "unable to work effectively for Charlie."
"The bottom line was that Mark, Larry and Jake were unable to work effectively for Charlie," the insider told RadarOnline.com.
"He is too much of a loose cannon at the moment with his increasingly erratic and bizarre behavior and outrageous statements. He was refusing to listen to their advice and counsel."
Loose cannon indeed, as verified by the rant against Burg below: