A Beatles Reunion? Let It Be! Paul McCartney & Ringo Starr Planning Surprise Concert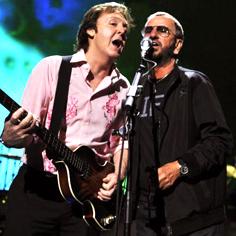 Forty-three years after the Beatles broke up, sending millions of teen fans into a tailspin, the last surviving members are reportedly planning another walk down Abbey Road in a surprise reunion show!
Paul McCartney and Ringo Starr are in talks to perform on the Late Show with David Letterman in early February, according to Showbiz411.com. And it's not just a random reunion: Letterman's show is filmed at the Ed Sullivan Theater, where the band first performed on American soil 50 years ago, on February 9, 1964.
Article continues below advertisement
"The plan is that the Letterman show will make the entire week of February 3 a Beatles spectacular," the report by Showbiz411.com claims.
After all these years, the timing could be perfect, since the Beatles are releasing a box set of their American releases on January 21. And on January 27, a host of celebrities including John Mayer, Keith Urban, Alicia Keys and John Legend will perform in "The Night That Changed America: A Grammy Salute To The Beatles."
Could deceased band mates John Lennon and George Harrison appear as well, by way of hologram? RadarOnline.com can exclusively report that although McCartney and Starr were once in serious talks to pull off such a coup, it's off the table for now.
"Paul especially thought it would be cool, and Lennon's widow Yoko Onowas pretty into it too, but George's people were totally against the idea," a music industry insider reveals.
Stay tuned for the latest details.