Inkredible! Ultimate Paul McCartney Fan Has Rock Legend's Signature Made Into Permanent Tattoo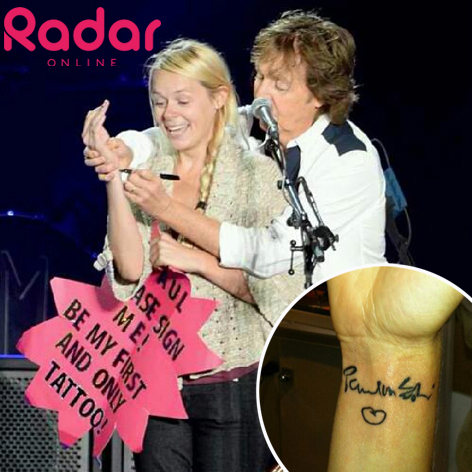 When Jenna Newsome met one of her idols, it left a lasting impression on her -- in thick black ink.
The Los Angeles-based 29-year-old went to the Outside Lands Music and Arts Festival in San Francisco on Friday night armed with a hand-made sign in an attempt to attract the attention of 71-year-old rock legend Paul McCartney.
It read, 'DEAR PAUL. PLEASE SIGN ME! BE MY FIRST AND ONLY TATTOO!"
Well, Newsome's grand plan worked. During his set, the British rock icon somehow noticed the blonde beauty among the thousands of fans in the crowd and called her onto the stage.
Article continues below advertisement
Armed with a sharpie, The Beatle obliged and even added a love heart.
Newsome then headed to a tattooist at 1 a.m. to make sure the souvenir scribble was with her for eternity!
"DEAR LORD IT HAPPENED!!!!!!" she wrote on Facebook, adding: "THE MOST AMAZING MOMENT OF MY LIFE!!!!!!!!!!!!
"I've been walking around on cloud nine feeling like I'm in a dream," she said on Sunday. "This has been my dream forever! Paul McCartney is my everything and I met him. Dreams come true."