Swedish Woman Uses Instagram To Chronicle Courageous Odyssey Back From Severe Anorexia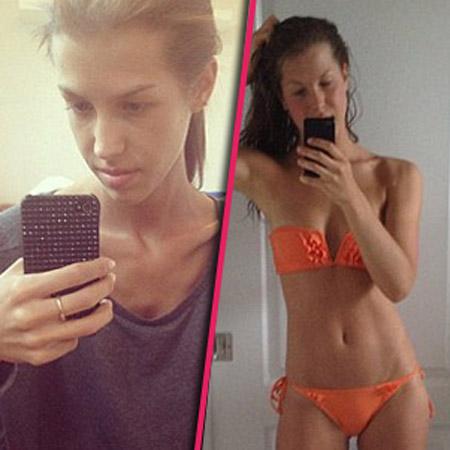 Antonia Eriksson's inspirational story is making waves, and turning heads, as the stunning and fit Swedish teen used Instagram to document her fight back from the depths of an eating disorder that nearly left her dead.
"Instagram helped me a lot," she told The Daily Dot. "I found other people who felt the same way or were struggling with battles like my own.
"We supported each other a lot and when I was feeling low I could always turn to my 'Instagram family' for support and advice."
Article continues below advertisement
Eriksson's battle back began in Sept. 2012, as her 84-pound body was shutting down from the extreme measures she took to stay slim. From the hospital room, she decided to chronicle her progress on Instagram, first anonymously under the handle @fightinganorexia, in her first post, writing, "So i don't know for sure yet, but tomorrow I'm probably being put in #hospital for my #eatingdisorder.
"I just can't fight it on my own anymore and it's gotten really serious and out of hand. I'm anyway considering starting a blog so I can write about my life and my #disorder in a better way, what do you think?"
After two months in the hospital, and another three of rebuilding her health, she was back up to a recommended weight. With confidence, Eriksson eventually unveiled her real self under a new moniker, @eatmoveimprove. (She also operates a blog under the same title.)
"It took me a while before I decided to share my identity," Eriksson said. "So I had this account alongside my personal to track my recovery, and then it grew and changed into what it is today."
Article continues below advertisement
Eriksson's current account is chock full of images depicting her healthy lifestyle, including smart, clean diet decisions, and frequent trips to the gym, where she's put some muscle on her lithe frame.
"Today I don't see my account as an inspiration for recovery, but for being recovered, healthy, if you see the difference," she said. "Anorexia is part of my history and a disease I once had, but it does not define me as a person. Today I share my life, what I love to do, and who I am.
"Anorexia is not a part of that, but it was, and I still want to be a support and inspiration for people who are struggling."