Opposites Attract! After Meeting At Eating Disorder Clinic, Morbidly Obese Man To Marry Recovering Anorexic And Bulimic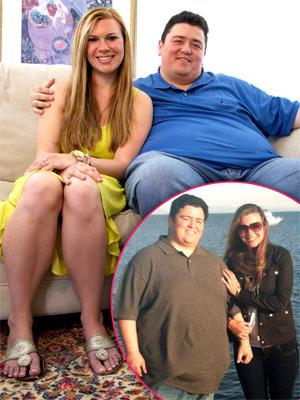 Love comes in all shapes, sizes and eating disorders!
Recovering anorexic and bulimic Lizzie Elsburg and morbidly obese Chris Glasgow headed to Pacific Shores Hospital in California to deal with their respective eating disorders, ended up falling in love months later and are now planning on walking down the aisle – and RadarOnline.com has the details.
The unlikely couple met at the clinic in August 2012 and bonded over their eating problems, but didn't start a romantic relationship until January 2013, getting engaged the next month.
Article continues below advertisement
"At first I was a bit afraid of Chris," admits Lizzie, who was only 89 pounds when she checked into the clinic, about her fiancé, who weighed a whopping 489 pounds. "I couldn't understand how anyone could let themselves get to that size. But after a while I got to know the person inside. I was able to see past his body issues, because I have body issues too."
Chris, who suffered from self-esteem issues, was taken by surprise when he learned that he had an admirer.
"When I found out through a friend that Lizzie liked me, I was really shocked. I didn't think any girl would ever find me attractive, let alone one as beautiful as Lizzie. There's no way I would ever hit on a girl like her in the past because I would have thought she'd just laugh at me," he explained.
Lizzie, who was forced to eat much more than her usual 100 calorie-per-day diet, and Chris, who traded in his excessive food menu for skimpy portions, were both determined to get better and bonded over their drive.
Article continues below advertisement
"It was a little weird at first. It felt like we should swap plates. 'But we recognized that we were both determined to beat our eating disorders - and that's what drew us together," Lizzie explained.
"I went to an eating disorder clinic to lose weight and came out with the love of my life," gushed Chris, who popped the question to Lizzie in February at a park near the clinic.
Chris has lost 70 pounds since last summer, while his bride-to-be is a healthy 126 pounds currently.
The couple is living near each other in Virginia and though they are planning on walking down the aisle next summer, Lizzie has set some boundaries by giving him an ultimatum.
"If he doesn't lose the weight then I won't marry him. If he went back to eating fast food and junk food the relationship wouldn't work from a health standpoint and from a point of physical attraction," she said.
"There's a lot on the line," he admits. "But it makes me realize just how important it is to stay on track."