Yolanda Foster's Lyme Disease Battle Continues: 'Money Can't Buy Health & Happiness'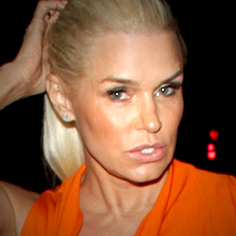 Article continues below advertisement
David Foster's wife, 49, revealed more details about the clinical trial she's taking part in.
"Getting a clear diagnosis last week of the inactivity in my left frontal lobe was the best Christmas present I could have ever dreamed of. Obviously anything damaged by an outside organism is scary, but at least it validated that I have not lost my mind and that we now have clarity as to why I have been isolated at home for the past year and a half with a paralyzed brain.
"I am lucky to have entered a clinical trial which I hope to one day be able to share with you as I am counting on being one of the 70 percent success stories they have had so far," the Dutch model added.
Despite her seemingly glamorous life in Beverly Hills, Yolanda opened up about her struggles with the disease.
"I wish I had more glamorous and fun news to report to you but unfortunately this is my reality… The one thing money can't buy is HEALTH and happiness."