PETA Slams Leo DiCaprio Over Animal Cruelty On 'Wolf Of Wall Street' Set & More Than 40,000 Angry Fans Sign Petition Blasting The Star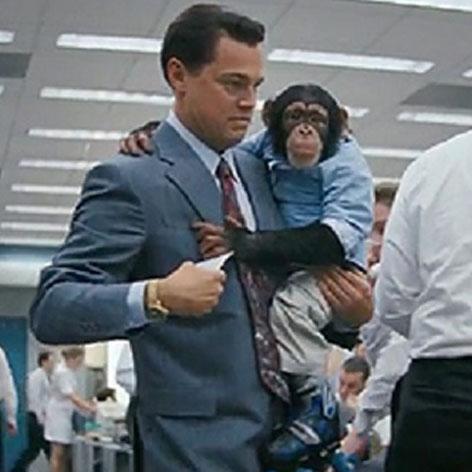 Leonardo DiCaprio's latest film is called The Wolf Of Wall Street, but it's a chimpanzee that's making headlines after the actor consented to scenes with a trained primate. Animal rights organization PETA slammed the star last week for allegedly perpetuating animal cruelty, and revealed today that more than 40,000 fans have signed a petition taking DiCaprio to task for his actions.
DiCaprio acted with the ape, named Chance, in a scene that shows a raucous party in his characters stock brokerage.
Article continues below advertisement
"Someone as committed to environmental concerns as Leonardo DiCaprio should know better than to support well-documented cruelty involved in using great apes for entertainment," PETA primatologist Julia Galluci said in a statement. "PETA hopes that the next time Leo receives a script with an ape 'actor' in it, he'll remember that these sensitive animals are stolen from their mothers at birth and subjected to physical abuse, and he'll demand a rewrite."
MORE ON:
Leonardo Dicaprio
In particular, PETA claims, the young chimpanzee filmed for the flick was provided by the Rosaire family, "which is notorious for operating a traveling circus that forces chimpanzees to perform cruel and unnatural acts." According to PETA, the Rosaires have been cited by the USDA for violations of the Animal Welfare Act. In addition, a whistleblower allegedly told PETA, the on-set monitor assigned to the film by the scandal-ridden American Humane Society had no experience with primates.
With that information in mind, PETA's petition begs DiCaprio, "Please pledge never to work with great apes again!
The petition currently has more than 40,000 signatures. DiCaprio has yet to comment.