Paul Walker's Father Breaks Down Over Son's Tragic Death: 'Every Time I Saw Him, I Told Him I Loved Him'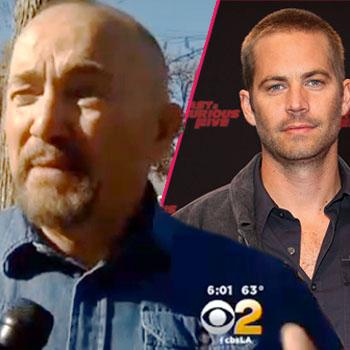 Fighting back tears, Paul Walker's heartbroken father paid tribute to the late Fast and Furious actor — as he opened up about his grief and son's lasting legacy.
"I'm just glad that every time I saw him, I told him I loved him… and he would say the same thing to me," Walker Sr. said, choking back sobs, while speaking with CBS2 in Los Angeles less than 48 hours after his son's death.
In addition to his father, Walker is survived by his mother, Cheryl Walker; his brothers, Cody and Caleb; his sister, Ashley; and his 15-year-old daughter, Meadow.
Article continues below advertisement
"His brothers are all taking it pretty hard," Walker Sr. revealed.
Prior to his death, the beloved actor, 40, was co-hosting a charity event with his non-profit organization, Reach Out Worldwide, to raise money for victims affected by the typhoon in the Philippines.
After, he and pal Roger Rodas went for a ride in a Porsche Carrera GT. Both died when the car crashed and burst into flames.
"His heart was so big," Walker Sr. said through his tears. "I was proud of him every day of his life."
Walker leaves behind a teenage daughter, Meadow, who moved to California from Hawaii two years ago to be closer to her dad. (The teen's mom is Rebecca McBrain who had a brief romance with the actor years ago.)
"He told me, 'I want to take a hiatus, she's just 15, and I don't have much more time to be with her,'" Walker Sr. recalled. "And then boom, he got another movie. He would say, 'I don't know what to do.'"
Funeral arrangements for Walker and his racecar driver friend have yet to be revealed.
See the interview here.