Close Call! Marine Catches Great White Shark Off The San Diego Coast, See The Amazing Video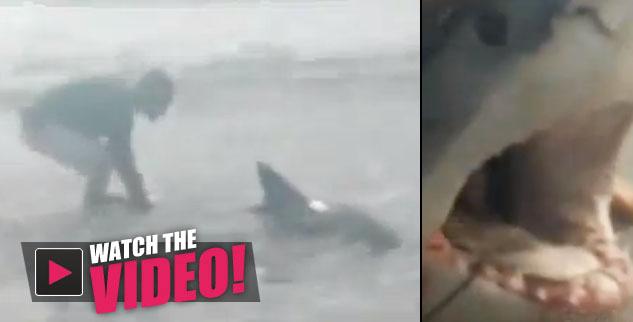 Marine Jeff Fangman made the greatest (and scariest!) catch of his life in late October when the avid angler reeled in a great white shark off the coast of San Diego and RadarOnline.com has the incredible video footage.
While on a fishing expedition with his wife and daughter on a Camp Pendleton beach, Fangman caught and then released a female nine-and-a-half foot great white shark.
"Seeing it in the water was just ... it was almost mind blowing," Fangman told ABC 15.
Article continues below advertisement
"It's taken several weeks to get the whole ordeal to sink in."
The entire catch took Fangman about 25 minutes — watch the video below to see his home footage:
On his website Sharks On The Sand, Fangman described the incredible day he caught the great white.
Words cant explain the emotions we were feeling. Here we were on a simple outing to catch something. I'm telling my wife, this is more than likely a GREAT WHITE… Instinct told me to do what I always do instead, run down to the shark while reeling. It hits me (GREAT WHITE)," he wrote.
"I wrap the leader around my right hand while holding the reel in my left. I work with the waves on getting it in to where it cant swim freely… From there it was shock and awe, and the race started to get it back swimming.
Fangman later told CBS 8, "There's not many people who can say they've touched a great white or let alone caught one on the beach. I know it's just a beautiful creature, a great white. It is a big strong fish and it's like solid muscle. It didn't really move when it was on the beach."
Check out another amazing video of the great white shark catch — caught on video: