Lance Armstrong Paid Rival $100K To Throw 1993 Race So He Would Win The $1M Prize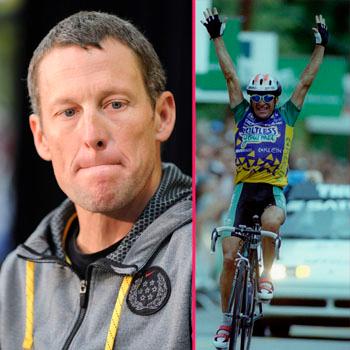 Italian cyclist Roberto Gaggioli claims disgraced American champ Lance Armstrong paid him $100,000 to throw a 1993 race so he could win the million dollar prize.
Gaggioli, 51, says Armstrong presented him with the cash inside a box disguised as a cake as an offering so he could clinch the win at the CoreStates race in Philadelphia.
"It was a young American colleague. He offered me a panettone (a traditional Italian Christmas cake) as a present and wished me a Merry Christmas. In the box there were $100,000 in small bills," Gaggioli said.
Article continues below advertisement
"That colleague was Lance Armstrong."
And according to Gaggioli, his entire racing team had agreed to be paid off.
"Lance said that my team, Coors Light, had agreed to it," he said. "I understood that it had all been decided."
The 21-day race awarded $1 million to the victor and consisted of the Pittsburgh Classic, the West Virginia Classic and the CoreStates race which were all part of the collective Thrift Drug Triple Crown that is now known as The Million Dollar Race.
Stephen Swart, a New Zealand teammate of Gaggioli's, has previously testified that Armstrong distributed $50,000 among the Coors Light team during the second race of the series in West Virginia.
"Lance approached me before the start in Philadelphia. He said that my team, Coors Light, was in agreement and spoke to me about the compensation: $100,000," Gaggioli said.
"Two laps from the end, I was in a breakaway with Lance, Bobby Julich and some Italian riders from the Mercatone team. When Lance made a sign, I turned away as if not to see that he had escaped. He broke away to win on his own."
Armstrong shamed the American cycling world when he finally admitted in January 2013 to doping, after years of speculation.
The 42-year-old was stripped of his seven Tour de France wins in 2012 after he was found guilty of doping.