Lamar Odom's Secret Pain: Dealing With A Family Tragedy Amid Khloe Kardashian Divorce Drama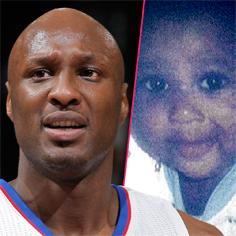 Khloe Kardashian and Lamar Odom's marriage had been crumbling for months before she filed for divorce on Friday. But though it was not unexpected, RadarOnline.com has learned that it couldn't have come at a worse time, as Odom and his family remember what would have been the eighth birthday of his son, Jayden, who tragically died from SIDS.
Jayden was born on December 15, 2005. "Your due date was December 25," his mother, Odom's ex, Liza Morales, wrote in an emotional instagram post on Sunday morning, almost exactly 48 hours after Kardashian filed for divorce . "Our gift came early that year, December 15."
Article continues below advertisement
http://instagram.com/p/h8fT4-uokz/
"I still remember the day," Lamar has said. "…watching Jayden come out, come out into the world. It was joyous, refreshing."
The infant "had really strong eyes," Odom said. "He would just kind of like watch me, and stare at me like he knew me from somewhere else."
But then, on June 29, 2006, Lamar got a frantic call from Morales telling him that Jayden was not breathing. "When she called me, she was like really frantic," Odom explained. "She couldn't really speak. I was told not to go home, to go right to the hospital. And when I got to the hospital, they just told me that they couldn't revive him."