Oh My! Lady Gaga Goes Full Frontal, Shows Off Private Parts On Magazine Cover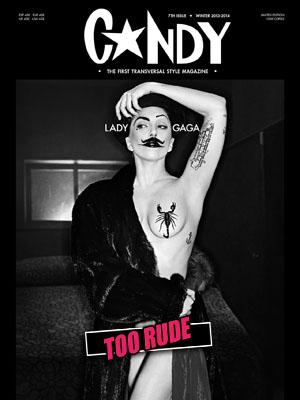 A ploy for buzz? Or just more avant-garde schtick? Both?
In any event, Lady Gaga got our attention with her latest gambit, showing off her nude vagina on the cover of Candy magazine, a publication that lauds itself for its' niche of Transversal style.
The singer, 27, wore a mustache and coat in the pic, blurring the lines of gender (though she leaving little doubt about her womanhood).
The risque release comes at a crucial time for Gaga, with whispers her magical musical run might be fading after a number of recent failures. Her new album ARTPOP started strong, debuting at No. 1, but had an 82 percent free fall in sales after getting bumped out of the top spot by Eminem.
Article continues below advertisement
Adding insult to injury, her recent Muppet-themed Christmas special was a huge ratings bust, with an underwhelming 3.6 million viewers last week.