Lady Gaga's Career In Crisis! She Splits With Long-Time Manager After Critic Calls New Album A 'Trainwreck'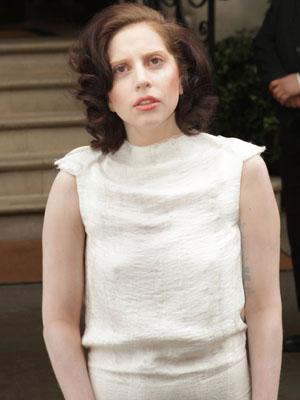 Has Lady Gaga finally gone off the deep end? As critics slam her new album "ARTPOP" as a 'dumb' 'pretentious' 'train wreck,' the singer has reportedly split with her long-time manager Troy Carter, and fans are fleeing by the thousands. RadarOnline.com investigates the end of an era in pop music.
Long backed by legions of "Little Monsters," Gaga's waning popularity was blatantly obvious during the Youtube Music Awards on Sunday, November 3. More than 4,000 viewers clicked off the show during the roughly three minutes Gaga was onscreen, according to a report in the L.A. Times, possibly turned off by her histrionics as she wept through a performance of her new single, "Dope."
Article continues below advertisement
Per other reports, the tears were spurred by a recent breakup with her boyfriend Taylor Kinney. But a more shocking split has gone down behind the scenes. According to The Hollywood Reporter, she recently parted ways with her manager of six years, Troy Carter. Carter did not respond to Radar's request for comment, but a source told THR that "creative differences" were behind the breakup. Another added that Carter felt "liberated" to be free from the Haus of Gaga.
Indeed, Gaga's inner circle can't be a comfortable place to be these days, as scathing reviews of her new album -- released on iTunes radio Monday night -- continue to pile up.
"'ARTPOP' is one of the biggest musical disasters from a major artist in pop music history," reviewer Angela Cheng wrote. Calling the album a "train wreck," she insisted that "It could very well be the end of Gaga's musical career."
Article continues below advertisement
Adam Markovitz of Entertainment Weekly weighed in, "Her music hasn't evolved music … it falls short when it comes to one basic function: making an impression."
Sabrina O'Connor of Examiner.com called it a "2nd-rate Madonna clone act" that is "pretentious and reductive."
And the London Evening Standard called it "stodgy" and "feeble."
Fans have voted with their dollars: As of this writing, the pre-ordered album is at a disappointing #21 on the iTunes chart just days before its official release.
Her last album, Born This Way, sold 1.1 million units in its first week, but was criticized after it emerged that Interscope had sold it on Amazon for 99 cents, apparently in an effort to bolster sales.
Do you think it's time for Gaga to go away? Or is she still the Mother Monster of pop music? Let us know in the comments!