Lady Gaga Suicide Watch? Pop Star Receives Instagram Intervention After Posting Disturbing Photos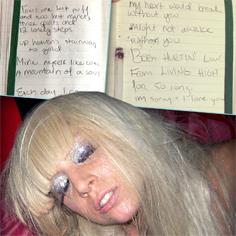 Is Lady Gaga suicidal? Staff at Instagram thought so when the star posted disturbing handwritten lyrics on her Instagram page earlier this week. They were so concerned, in fact, that they emailed her about her mental well-being!
One of Gaga's handwritten posts read, "Took one last puff and two last regrets, three spirits and 12 lonely steps up heaven's stairway to gold. Mine myself like coal, a mountain of a soul. Each day I cry. I feel so low from living high."
Article continues below advertisement
She followed that with another that read, "My heart would break without you, might not awake without you. Been hurting' low from living high for so long. I'm sorry and I love you."
While definitely dark, both sets of prose are lyrics from her upcoming song, "Dope," and she hash tagged the pictures as such, mentioning that it would be track 13 on her upcoming album, "Art Pop."
Instagram was still alarmed, and sent her an email that read, "Members of the Instagram community have raised concerns for your well-being after seeing posts you've shared. We're reaching out to provide you with some important safety information."
"Omg at this email instagram just sent me," Gaga tweeted with a clip of the missive. "what the actual hell. hahahaha."
Even though the lyrics weren't necessarily a cry for help, Gaga has certainly been dealing with a lot of stress in recent months, as she faces a lawsuit from her former assistant and several artists who claim Gaga plagiarized them.
Gaga's album "Art Pop" comes out on November 11.