Porsha Who? Kordell Stewart Cozies Up To Towanda Braxton Days After Divorce Is Finalized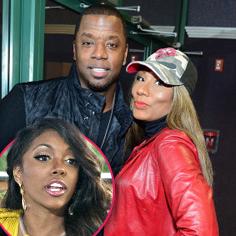 Article continues below advertisement
The two could have a lot to talk about since Braxton is going through a messy split of her own. Braxton is currently legally separated from her husband, Andre Carter, but the two are still living together. They moved in with her sister Trina after facing eviction from the home they shared.
"With the kids, we do things together," Braxton recently said. "But as far as our marriage, we're separated. I think that because you are separated and you're not with that person, you don't have to be mean and nasty. It doesn't have to get ugly."
"We don't sleep in the same bed," she clarified. "We're like roommates … There are so many people now that are going through the same thing that I'm going through because of the recession, because of the economy. It's affected so many people."
As for Porsha, she insists she's "in a better place" since the divorce, but admits she's struggled to watch RHOA episodes dealing with the breakdown of her marriage.
Kordell has been rumored to be gay, but he denies it and Porsha insists the allegations had nothing to do with their breakup.