Exclusive
Fantasia's Heartbreak: Scorned Wife 'Mothering The Love Child' She Had With Cheating Ex-Boyfriend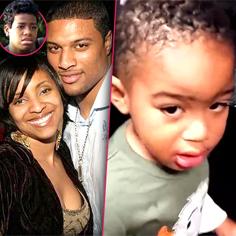 While Fantasia Barrino busts her butt on Broadway in After Midnight, RadarOnline.com has exclusively learned the 2-year-old son she had with cheating ex-boyfriend Antwaun Cook is spending a lot of time with his estranged wife, Paula, who he's dating again.
Fantasia's love child, Dallas, had his birthday over the weekend at a Chuck E. Cheese's in North Carolina and she was noticeably absent because of obligations on Broadway — but Antwaun, Paula, and the two sons they have together were there for the celebration.
Article continues below advertisement
"Antwaun and Paula are really happy being together again, and they already have two sons that Dallas fits in perfectly with and loves being around," an insider told Radar.
"Fantasia and Antwaun have shared custody of Dallas, but he ends up with him a lot since she's busy on Broadway, which in turn gives Paula a lot of time with him."
It's a bizarre twist in the story that was once a fairytale, but now a nightmare for Fantasia.
Fantasia was first labeled a homewrecker in 2010 when it was revealed she was in a romantic relationship with Antwaun — a married man. The two had Dallas together in 2011, and then broke up in 2013, at which point he went back to his estranged wife, Paula.
"Paula's a strong woman for pretty much helping to mother the love child of her cheating husband," the source added.
"But her relationship with Antwaun takes precedence right now and the last thing on their minds is whether or not it's hurting Fantasia's feelings. She won't sacrifice the well-being of the child because it's not his fault."
It's unknown how long Dallas will be staying with Antwaun for, but as of Wednesday night he was still with his father — and look how cute he is!