PHOTOS: Fantasia Barrino & Married Beau Snapped Together - 8 Months Ago!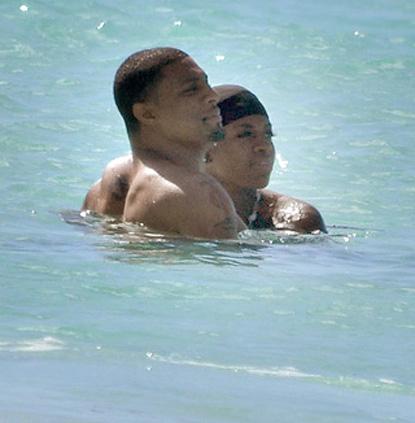 American Idol winner Fantasia Barrino may claim she's no homewrecker, but RadarOnline.com has uncovered lost photos showing the singer and her married beau, Antwaun Cook, getting hot and heavy -- eight months ago in Barbados!
Barrino and her tattoo covered lover were pictured this past January walking hand in hand on the beautiful island while jet-skiing and swimming in the ocean together too.
In court documents filed last week, Paula Cook alleged that Barrino and her husband began a "covert adulterous affair" in August 2009 and that the two even made a sex tape.
Article continues below advertisement
But after the story surfaced, the performer's manager was quick to refute the allegations.
In a statement Brian Dickens said: "Fantasia is certain that she is not responsible for the deterioration of their marriage.
"Fantasia will weather this storm with the dignity and grace that she has exemplified throughout a life in which she has repeatedly overcome obstacles and challenges.
"Fantasia's faith in God, herself and family remain as strong as ever."
A lawyer for the songbird also blasted Paula Cook for dragging the singer's name into the media spotlight.
Barrino allegedly met married Cook while he was working at a T-Mobile store and reportedly had the word "Cook" inked below her left collar bone before hiding it with another tattoo.
The singer's third album Back To Me is scheduled for release in just a few weeks, while her reality show Fantasia For Real returns to VH1 for its second season.
The 2004, the Idol winner stopped tweeting with her fans last month after posting several cryptic and spiritual style messages for her followers.
Her final Tweets on Friday July 16, 2010, included: Bye My People!!! Learn How to up lift your People, pray 4 Them, and Not be so quick to Judge and put them Down
And: I'm Only Human.