Fantasia Barrino Reveals She's Pregnant: 'This Child I Carry.. I Don't Have To Hide It'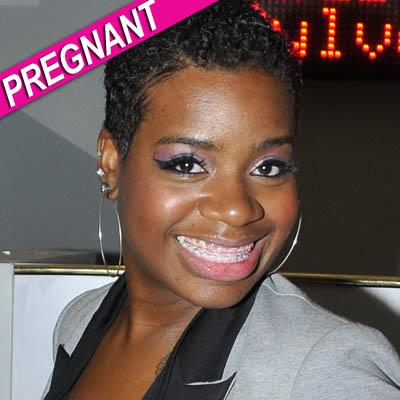 By Cliff Renfrew - RadarOnline.com Reporter
Former American Idol winner Fantasia Barrino is expecting a baby.
The controversial singer made the surprising announcement at a charity concert in Jacksonville, Florida over the weekend.
The singer, 27, revealed the news during a lead-in to her song, Even Angels.
"You are the first persons that I share this news with," she told the small crowd.
"And I share this with you because I can relate to you, And for a while I walked around figuring out what will they say and what will they think about me.
Article continues below advertisement
"But now I tell you, I don't live my life for folk.
"So this child that I carry, God has given me this child. And I don't have to hide it from none of y'all."
As the crowd cheered, Fantasia then went on to dedicate a song to her unborn child while telling her assembled fans 'God bless you keep me in your prayers.'
Although Barrino did not reveal the identity of the baby daddy, it's believed that the father is her boyfriend, Antwaun Cook, whom she started seeing when he was married.
Last August, she admitted to having an affair with Cook before overdosing on pills in an apparent suicide attempt.
The couple then reconciled with Barrino admitting that the stress of her career and relationship had become too much for her.
In December, 2010, Barrino was hauled into court by Cook's spurned wife, Paula Cook, who sued the singer for breaking up her marriage.
Barrino denied knowing that Cook was married when they began their affair; she also revealed in court that she had previously become pregnant by him, but had had an abortion.
This will be Barrino's second child -- her first child, Zion, will turn 10 next week.