Say It Ain't So Joe! Jackson Elder Looks To Push Blanket As Future King Of Pop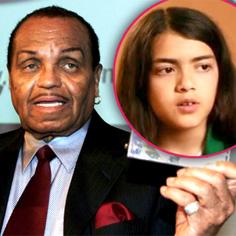 Michael Jackson's father Joe sees a potential star in the late star's youngest son, 11-year-old Blanket, RadarOnline.com has learned.
"They said there would never be another Michael Jackson and I say that we already have one," the promoter said in a forthcoming documentary called Remembering Michael. "But I said he just has to be trained.
"That kid is the spitting image of Michael when he was smaller."
Article continues below advertisement
Joe cited a chance meeting with a fortune teller, who told him that Blanket "is going to be the biggest entertainer in the world" one day.
Blanket, who appears in the Katherine Jackson produced documentary, recalls watching videos of his late 'Thriller' dad dancing.
It's well known the elder Jackson had an acrimonious relationship with the King of Pop, though the 75-year-old said his strict disciplinarian style "kept his kids out of jail and kept them right."
As we previously reported, Joe infamously gave an interview with CNN on the red carpet at the 2009 BET Awards -- just three days after Michael's June 25th death -- in which he said he was "great," and blew off questions about the family's mourning to plug his record label.