Exclusive
Crying Michael Jackson Spoke Of How He 'Couldn't Forgive' Dad Joe For Childhood Abuse, Reveals Pal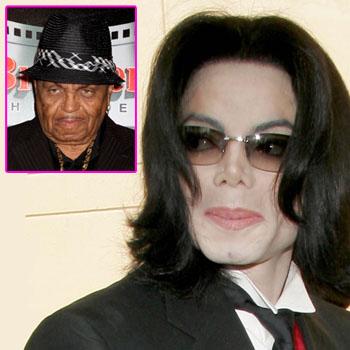 Michael Jackson wept as he told a close friend how he couldn't ever forgive his father Joe for years of beatings.
Speaking exclusively to RadarOnline.com, Jason Pfeiffer recalled how the King of Pop confessed to the physical and emotional abuse perpetrated on him by Joe, the music manager who turned his sons into the world famous Jackson 5.
"Michael and I had some very emotional moments talking about our families," said Pfeiffer, who once worked for the Thriller singer's Beverly Hills dermatologist Dr. Arnold Klein.
Article continues below advertisement
"Michael wept as he spoke about how his father whipped him on the back and abused him so much.
"He made out he couldn't forgive his dad, who he said had made his childhood unbearable."
But according to Pfeiffer, Jackson -- who died of acute propofol and benzodiazepine intoxication on June 25, 2009 -- would often flip-flop on his views about his father, 78.
Pfeiffer believes it could have been because of Jackson's use of the powerful painkiller, Demerol.
Said Pfeiffer: "On one occasion, we were talking about his dad and then Joe rang his mobile. Michael talked with him, calmly and politely, forgetting all he had said to me. It was so odd."
He added the Beat It pop star, who died at age 50, rarely spoke about his brothers Jackie, Tito, Jermaine, Marlon or Randy.
"I got a sense he didn't like them," said Pfeiffer.
During his life, Jackson claimed that from a young age he was physically and emotionally abused by Joe, enduring long and incessant rehearsals, whippings and name-calling.
Article continues below advertisement
In a 2003 interview with Oprah Winfrey, Michael recounted how Joe once sat in a chair with a belt in his hand as Michael and his siblings rehearsed.
"If you didn't do it the right way, he would tear you up, really get you," he told Winfrey.
In another altercation -- later recalled by Marlon -- Joe held Michael upside down by one leg and "pummeled him over and over again with his hand, hitting him on his back and buttocks."
When Joe spoke to Winfrey after Michael's death in 2010, he admitted using the strap on his nine children until his wife Katherine stepped in.
"I don't (regret the beatings)," he said. "It kept them out of jail and kept them right."
As RadarOnline.com revealed Tuesday, a slurring Jackson left a secret voicemail for Pfeiffer just seven weeks before his death, in which he pleaded with his pal to help him find a doctor.
Article continues below advertisement
Jackson — sounding almost unrecognizable from his voice of a generation — begged Pfeiffer to call him back on May 3, 2009 at around 11:06 a.m.
"It's Michael. Err, I can't find Klein," said Jackson. "Um, I have a problem in the groin area, and I don't want to say this on the phone… inflamed area there, um, on a private… I don't want to say this on the phone. Get him to call me please."
After a brief pause, the legendary singer murmured: "Thank you. Right away. Bye bye."
Pfeiffer has met with lawyers for AEG and is prepared to testify in support of the concert promoter which is preparing to defend itself against the Jackson family, who has filed a $40 billion wrongful death suit.