Bow Down, Brit! Beyonce Sells Nearly Four Times As Many Albums In First Hour On Sale Than Spears Sold In Her First WEEK!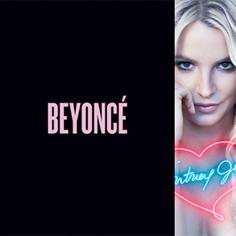 All hail Queen B! Beyonce's bombshell surprise album has brought her some of her biggest sales ever: According to new sales figures, "Beyonce" sold roughly 400,000 copies in just the first hour it was on sale, and 828,773 copies worldwide in just the first three days.
Projected to land atop the Billboard charts this week, the album is Beyonce's best-selling ever and fifth consecutive Number One.
The feat is all the more impressive considering that several of her supposed pop music peers have struggled with sales in recent weeks.
Article continues below advertisement
Britney Spears sold just 112,000 copies of "Britney Jean" in her first week, last week, and has sold just under 15,000 more since Beyonce released her latest work, according to HITS Daily Double. The album represents her worst first-week sales ever.
Katy Perry's "Prism" sold roughly 286,000 copies in her first week in mid-October, considered to be a respectful showing in the current climate. And Lady Gaga's "Artpop" brought in just 258,000 copies when it debuted the first week in November -- 75% less than first-week sales of her smash hit album "Born This Way."
Beyonce also beat out her husband, Jay Z, whose "Magna Carta Holy Grail" sold about 527,000 copies in its first week this summer.
The numbers don't lie, but do you think that Beyonce deserves to be the queen of pop? Let us know in the comments!