Oops ... The Album 'Bombed!' Britney Spears' New Album Set To Debut At #4 With Her Worst-Ever First Week Sales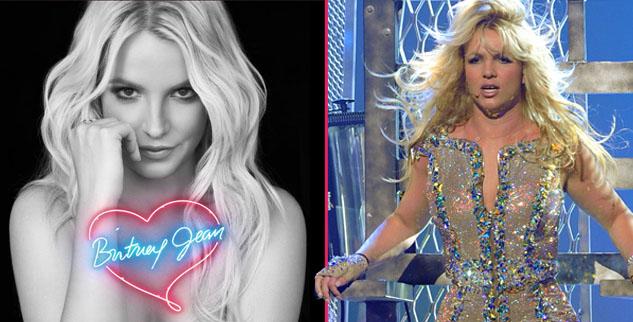 The album "bombed," b*tch. Despite being touted as her most personal album yet, Britney Spears' new offering, "Britney Jean" has sold just 64,030 copies in its first ten days on sale, according to new sales figures.
On Monday night, HITS Daily Double placed the album at fourth for the week and just over 64,000 copies sold, with 69.42% of sales figures in. That will put her one spot behind the Duck Dynasty family's Christmas album, which has been out since October, with One Direction's new album "Midnight Memories" at number 2 with just over 82,000 albums sold, and Garth Brooks at number one with his new box set, "Blame It On My Roots," which sold 98,756 copies so far.
Article continues below advertisement
Spears did even worse in the UK, where she came in at number 34. Elsewhere, she was at 12 in Australia, 28 in Sweden, 15 in Ireland, 32 in Belgium and 36 in the Netherlands.
Spears' last album, "Femme Fatale," debuted at number one in the U.S. with 276,000 copies sold and before that, "Circus" scored an impressive 505,000 copies in its first week, enough for #1 status in nine countries. If "Britney Jean" stays on track with sales predictions, it will be both the lowest-selling and lowest-charting album of her career.
Fans were quick to air their disappointment on Twitter. "Can't believe how badly Britney's new album bombed this week," user @AaronWillis23 wrote. "That's what no promo does for you." User @stevencbe weighed in, "Britney Spears is about to bomb in the US with 'Britney Jean.'"
And @magic_treehouse wrote, "The album's a dud …"
Spears, however, remains oblivious to it all. As RadarOnline.com has reported, "Britney's manager, Larry Rudolph, won't allow her to see any of the bad reviews. Britney ... lives in a bubble. Her team will allow her to believe that the album is being well-received."
Is Spear's star fading or is this a momentary blip? Let us know in the comments!