Exclusive
How Beyoncé Did It: The Grueling Schedule Of Secret Shoots That Helped Her Pull Off Her Surprise Album REVEALED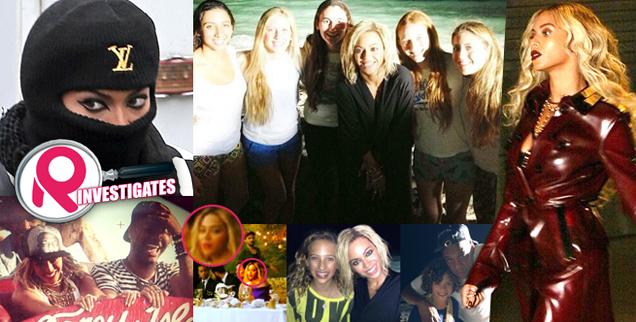 It almost seemed like magic when Beyoncé shocked the world by dropped her new album, complete with 17 new videos, at midnight Thursday night. How, fans wondered, did the new mom manage to pull off such a feat without anyone finding out beforehand, and in the middle of her international Mrs. Carter Show World Tour nonetheless? After an exhaustive investigation, RadarOnline.com can exclusively reveal the punishing schedule of secret video shoots around the world that created the material for the "Beyoncé" visual album: More than a dozen video shoots in eight different cities on four different continents somehow managed to go under the RadarOnline.com and leave fans in the dark -- until now.
Article continues below advertisement
One of the first video shoots for the new album took place on August 11 at the Bishoup Loughlin Memorial High School in Brooklyn's Fort Greene neighborhood, where Beyoncé filmed the pageant scene for "Pretty Hurts" over two nights in the school auditorium. Neighbors noticed the production vans outside, and the auditorium's blue velvet curtain made an eventual appearance in the clip.
Just a few days later, she and Jay Z jetted down to Miami to film the video for "Drunk In Love" on August 15. Again, neighbors spotted them filming nearby, and the couple happily posed for pics. Jay Z even let a young fan wear the chains that he would rock in the video.
From there, Beyoncé flew off to England for two dates in Chelmsford and Weston-under-Lizard on Aust 17 and 18.
By August 29, she was back in Brooklyn, filming the video for XO at Coney Island.
That shoot drew a lot of attention after a couple got trapped on the top of a ferris wheel during filming.
Two days later, Beyoncé rocked a show in Philadelphia, before heading to South America for two weeks of concerts in Brazil, Venezuela and Colombia.
Article continues below advertisement
On September 17, she filmed scenes for the video for "Blue" in the small Brazilian seaside town of Trancoso, before playing a concert in Brasilia that night.
After wrapping her South American tour on September 22, it was on to Mexico for concerts in Monterrey on September 24, and Mexico City on September 26.
When the Mexico City show ended, she jetted to Houston to the set of the video for "Blow" at the Funplex roller-skating rink, and that shoot did not wrap up until the early morning hours.
http://instagram.com/p/et_A9MAZcu/
http://instagram.com/p/eunvkaAZYQ/
Just a few days after that, it was back to the East Coast to shoot scenes for "Heaven" in Oakland, New Jersey, on October 2.
On October 10, Beyoncé filmed scenes for a music video at the Greenham Common bomb shelter, according to local media.
Then, she and Jay flew off for a romantic vacation in Paris. They were spotted dining at La Petite Maison de Nicole on October 13, and throughout the weekend they spent time at the notorious strip club Crazy Horse Paris, where B filmed scenes that would end up in the video for "Partition." In particular, a chaise lounge frequently used in the club's shows makes an appearance in the final cut of the video.
Article continues below advertisement
By October 16, Beyoncé was in Auckland, New Zealand, kicking off the Down Under leg of her tour. After four dates there, it was on to Australia, but her team was still hard at work on her video projects in the U.S.
On October 20, a crew filmed scenes for "No Angel" near the Cuney Homes projects on Houston's South Side.
http://instagram.com/p/h3lBFzLCcd/
Three days later, Beyoncé filmed her own scenes for the video in Brunswick, Melbourne, Australia.
She finished her Australian tour on November 9 in Perth. From there, it was right back to work in L.A., where she filmed the video for "Haunted" on November 11, according to an extra who was on set for several days.
November 13 saw filming for "Superpower." Fans who spotted her leaving an L.A. studio with distinctive eye makeup assumed the shoot was for "Bow Down," but she ended up rocking the look in the "Superpower" clip.
Article continues below advertisement
With her tour on a brief hiatus as the launch date for her album approached, Beyoncé flew back to New York to film the music video for "Jealous" on November 19. The red leather Burberry Prorsum coat she wore on set caused a splash online, but again, fans assumed it would end up in the video for "Bow Down," and not the secret track.
In all, it seems like an exhausting couple of months -- and this run-down doesn't even include the shoots for videos for "Ghost," "Yoncé," "Rocket," "Mine," and "Flawless," many of which were filmed on lockdown in studios.
Do you think her hard work was worth it? Let us know what you think of Beyoncé's surprise album and videos in the comments!