Exclusive
She Did It Again! Tori Spelling Caught Staging Yet Another Fake Photo Op -- How She Fooled Fans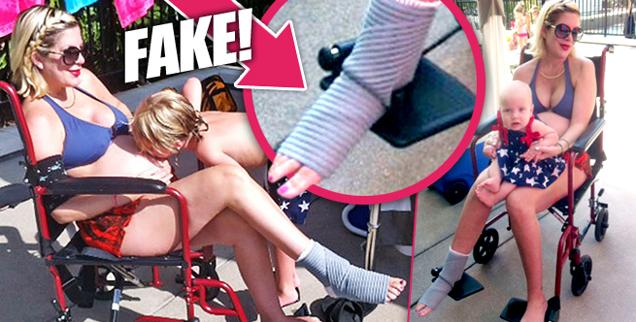 Tori Spelling has made a career by transitioning from an actress to a reality TV star. But somewhere along the line, did she forget that she's not still acting? Just weeks ago, RadarOnline.com caught Spelling staging fake candid family shots with her own personal paparazzo. Now, Radar can reveal, she did it once before, fooling fans into thinking she had a sprained ankle when she was really in the midst of a hospitalization for a life-threatening condition.
Article continues below advertisement
Spelling discusses the shots, which were taken on July 4, 2012, in her new book, Spelling It Like It Is.
After 55 days spent in the hospital under observation for complications from her pregnancy with son Finn, Spelling, suffering from placenta previa, was released to live at a two-bedroom apartment near the hospital. She was 30 weeks pregnant and had not yet revealed the extent of her bed rest and hospitalization to fans.
Determined to keep her condition under wraps, Spelling says, on the Fourth of July she and husband Dean McDermott "wrapped a bandage around my ankle so it looked like I'd hurt myself, and Dean put me in a wheelchair and wheeled me down to sit poolside."
She writes, "I sat in the sun in my wheelchair, with my fake sprained ankle, watching our kids frolic."
In a blog post at the time, she neglected to mention her ongoing health issues, or her fake sprain, writing "Today the McDermotts will be spending the holiday together as a family. Dean will be grilling while the kids will most likely spend the entire day at the pool." Other outlets including Us Weekly and ContactMusic speculated that the bandage was "presumably from a sprain."