Exclusive
Bad Boyfriend! 'Shahs of Sunset' Star GG's New Man Is A Convicted Felon!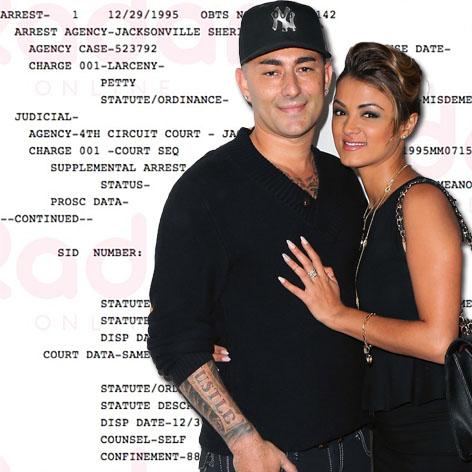 Shahs of Sunset star Golnesa "GG" Gharachedaghi has only been dating her new boyfriend, Dennis DeSantis, for a few weeks, but she already wants him to put a ring on it: On November 11, the Bravo star posted a picture of a huge diamond ring on Instagram, and wrote, "I don't think I'm asking for much. LoL! Come on @1dennisdesantis get on it!!" But does she really know the man that she's begging to make her a bride? RadarOnline.com has exclusively learned that DeSantis is a convicted felon with multiple arrests on his record.
Article continues below advertisement
DeSantis' string of arrests started in 1995, when he was 18 years old, RadarOnline.com has learned. On December 29 of that year, sheriffs in Jacksonville, Florida, arrested him for petty larceny. According to court records obtained by RadarOnline.com, he was later prosecuted for petit theft larceny, or theft of an amount of money or item worth less than $300, a second-degree misdemeanor. Representing himself, he pleaded no contest and was subsequently convicted but released after two days in prison.
Less than one month later, he was arrested again on January 24, 1996, for second-degree misdemeanor possession of marijuana. The maximum jail time for such a charge in 60 days, but after DeSantis pleaded no contest, the judge withheld adjudication, which often occurs in Florida cases where probation is imposed.
Still, less than six months later, DeSantis was brought into court again -- and this time on a bigger charge. On June 7, 1996, he was arrested for felony larceny in the third degree, and eventually charged with felony grand theft of an amount of money or item worth between $300 and $5,000. DeSantis pleaded guilty, was convicted, and served three days in jail, according to court documents.
Article continues below advertisement
More recently, on November 10, 2007, DeSantis was convicted of excessive speeding, between 70 and 100 mph in San Bernardino County, California.
RadarOnline.com also found multiple instances of DeSantis being sued over financial issues: In 2007, he was sued by his landlords at 420 W 42nd St. for $15,617. The previous year, the same company sued him for $7,752. He also was sued by the New York State Tax Commission in 2004 and 2005 for $426 in unpaid taxes each year.
Do you think that GG knows about her boyfriend's shady past? Will it affect their relationship? Let us know in the comments!