Shock Court Claims: TV Chef Nigella Lawson Took Cocaine & Marijuana 'Daily' For A Number Of Years, Aides Testify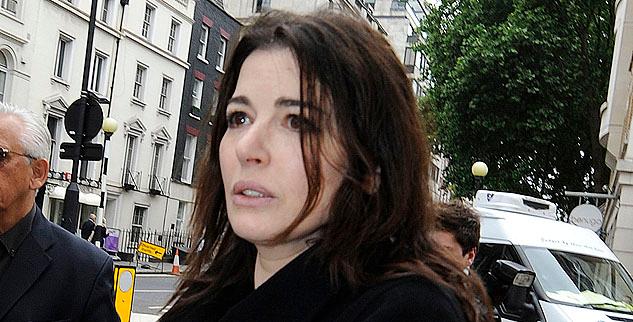 Secrets threatening to destroy TV chef Nigella Lawson's career were heard in a court room on Tuesday, including allegations that she is a habitual cocaine and marijuana user, RadarOnline.com is reporting.
Former assistants of the British chef claimed in a London court that Lawson, 53, used her ex-husband Charles Saatchi's money to lavish them with gifts and money in exchange for keeping quiet about her secret drug habit.
Article continues below advertisement
Francesca and Elisabetta Grillo have been charged with stealing $480,000 of Saatchi's money and in their defense revealed that the money was part of an "understanding" they had with Lawson to keep mum about her "daily" abuse of cocaine, marijuana and prescription pills, The Telegraph reported.
Lawson's use of the illicit drugs allegedly spanned more than 10 years.
Isleworth Crown Court in London heard an explosive email from Saatchi that he'd sent Lawson in which he said he believed "every word" of what the sisters said, and that he believed she authorized them spending his money because she was "off her head" on drugs.
"Of course now the Grillos will get off on the basis that you were so off your head on drugs you allowed the sisters to spend whatever they liked," the judge read aloud.
"And yes I believe every word they have said."
On Monday the court also heard the judge read a further statement from Saatchi: "At the time of sending the email I was completely astonished by the alleged scale of the drug use set out in the statements. Nevertheless I did believe the allegations. I have been asked whether it referred to a belief that Nigella permitted the Grillos to spend whatever they liked. On reflection I was simply speculating the sisters would use this material to defend themselves."
Article continues below advertisement
GALLERY: Cooking Up Trouble! 11 Celebrity Chefs Scandals
Elisabetta's attorney, Anthony Metzer, told the court that Lawson "did not want him to know about her use, particularly of cocaine," of her then-husband Saatchi. "Because the defendants were fully aware of her illicit drug use, she consented to their expenditure on the understanding there would be no disclosure to her husband of her drug usage."
Lawson's legal team called the drug allegations "totally scurrilous" and "untrue," and said the timing of it their claims is "no coincidence at all" — referring to Lawson's recent headlines of the choking incident and high-profile divorce from Saatchi.
And a letter the sisters wrote to Lawson and Saatchi after their August 2012 arrest was read in the court as evidence of their plot to allegedly frame Lawson with drug use.
Article continues below advertisement
"Dear Charles and Nigella, we are at our utmost despair and we are reaching out to you in the sincere hope that somewhere in your hearts you can find a way to forgive us. We truly believe we had a bond like a family, you were like, as you said to us, like our English family. We saw you like a mother and father figure. There is not a worse feeling than that," the letter read.
"All we want to do is put this right and make amends. We plead with you to find a way in your hearts to stop the fighting that's destroying us. From the bottom of our hearts we extend an olive branch in the hope that you understand that we never meant to hurt you in anyway. Please forgive us and help us to put this right."
However, the defense maintained their stance and the judge said, "The defense asserts that Miss Lawson habitually took cocaine and did so on a daily basis – in addition to her abuse of prescription drugs – throughout the defendants' time in the household."
Stay with RadarOnline.com as the story develops…