Inside The Plot To Destroy Celebrity Chef Nigella Lawson: Ex-Husband & Pal Threaten To Expose The 'Truth' Behind Choking Bust-Up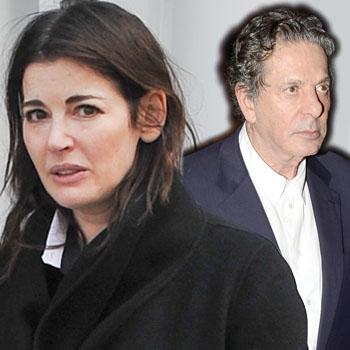 Famous TV chef Nigella Lawson came out looking like the victim when photos were released of her then-husband Charles Saatchi choking her at a London restaurant, but now her ex and a former assistant are threatening to release secrets that could purportedly destroy The Taste star's reputation.
The couple announced their divorce shortly after the choking incident and now advertising mogul Saatchi, 70, is reportedly planning legal action against Lawson that will expose the alleged "truth" behind their split — and he's reportedly accusing her of behavior that will blow the lid off her squeaky clean career in a letter sent to Lawson's attorney last week.
Article continues below advertisement
What's more, a former friend and disgruntled ex-aide of Lawson's, Francesca Grillo, is also in on an apparent plot to take down the TV chef, providing sworn affidavits that detail the star's private life and behavior of her children.
GALLERY: Cooking Up Trouble! 11 Celebrity Chefs Scandals
Lawson, 53, has sought to block British publications from revealing the contents of those statements.
RadarOnline.com has read the documents but has decided not to publish their contents.
However, sources close to Mr Saatchi say this supposed "truth" about the couple's bust-up at a London restaurant will "paint the incident in an entirely different light."
"Charles has been portrayed as the villain in all of this but there is far more to it than meets the eye," a source told The Mirror newspaper.
"Nigella has not given her version of what caused the argument and her silence speaks volumes.
"When she and Charles got together following the death of her first husband John Diamond, she gave him certain assurances and on the day they argued in the restaurant he found out she had not stuck to those assurances.
"Since then information has come to light that Charles sees as confirming the reason he was upset with Nigella in the restaurant."