Exclusive
The REAL NeNe Leakes Is Back! 'I Don't Think She Forgot How To Be A Housewife,' Declares Costar Cynthia Bailey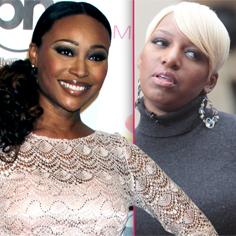 Article continues below advertisement
NeNe doesn't change no matter where she is or what she is doing.
"If the wave is in LA shooting The New Normal, that's where she is," Cynthia said. "If it's back in Atlanta taking care of family, then that's where she is."
And NeNe never lost touch with her housewife origins.
"I don't think she forgot how to be a housewife," Cynthia explained. "The New Normal was just more of priority and they had to do what they had to do."
Plus, Cynthia was just happy to have her friend back.
"I missed her when she was away working," she admitted. "I was so proud of her when she was doing her The New Normal. She's evolved into quite the actress."
And when NeNe returned to Atlanta, Cynthia was excited to catch up with her.
"When she came back to town, it was like, 'Okay, I don't know how long you're going to be here, so I figured let's just make up for lost time. Let's do some regular stuff,'" Cynthia said.
That "regular stuff" is how Cynthia and NeNe winded up at the grocery store doing some shopping, which is a scene included in the trailer for the new RHOA season.
"I picked up my groceries while we were there, but NeNe's not really big on cooking," Cynthia shared. "So she was very fascinated. She was like, 'Oh my god! This is what they have at the grocery store?' It was like a field trip for her. For me, I actually got groceries and she just got to hang with me."