Dutch Authorities Launch Investigation Over Miley Cyrus Drug Claims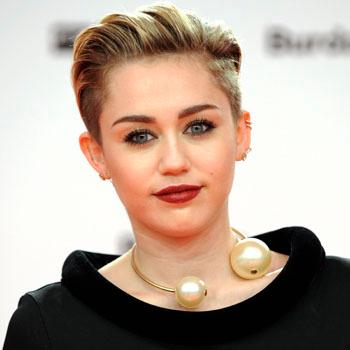 She can't stop. But is it high time that Miley Cyrus finally faced some consequences for her very public drug use? RadarOnline.com has learned that the twerking pop tart is at the center of an investigation in the Netherlands over her pot-smoking stunt at the European Music Awards on November 10.
As RadarOnline.com has reported, Cyrus shocked the audience at the awards show by stopping her award acceptance speech to light up a fat blunt onstage. But even though marijuana is legal in the country, and even if she was only smoking a cigarette after all, Cyrus' dopey act may have violated strict Dutch anti-smoking laws.
Article continues below advertisement
"We received complaints about the smoking, which was also seen on television," Tjitte Mastenbroek of the National Food and Consumer Authority told local media earlier this week. "We will be shortly meeting with the venue the Ziggo Dome's management to check what exactly happened there."
Mastenbroek explained, "There is a smoking ban in public places in the Netherlands. Employees have the right to a smoke-free environment and this includes camera and sound personnel."
According to a Ziggo Dome spokesman, the arena does have a strict non-smoking policy that is enforced by security personnel.
If found to be in violation of the laws, the arena could be fined more than $800.
Cyrus appears typically unconcerned about the whole thing, Tweeting, "Sometimes in life you just gotta decide not to give AF."
Meanwhile, MTV managed to escape criticism for the incident by deciding to edit out the footage of Cyrus smoking when the show was rebroadcast in the United States. In any case, they couldn't be fined by the FCC for it if it had aired, since the FCC does not fine cable channels. Viewers found that out the hard way when their complaints about Cyrus' VMAs twerkfest fell on deaf ears, as RadarOnline.com has reported.