Hulk Hogan: I Tried To Kill Myself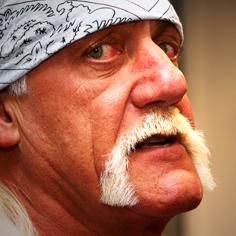 Hulk Hogan thought about taking his own life in 2007.
The wrestling legend hit rock bottom after he began to realise his body couldn't cope with the same ring rigours it used to, his reality TV show 'Hogan Knows Best' reality show - co-starring his wife Linda and children Brooke and Nick - was cancelled and his marriage was heading for divorce.
Speaking on a retrospective television show, he said: "Everything got dark, everything happened at once. I was drinking alcohol very heavily. It just all kept piling up. I always wondered how could someone possibly take their own life, and so I got to that point where I said, 'You know what, maybe this would be easy. You know, maybe this would be an easy way to fix things.' "
Article continues below advertisement
That year the former WWE star - real name Terry Bollea - had to support his son Nick after he was jailed for reckless driving after crashing his car, severely injuring his friend John Graziano in the incident.
Hulk couldn't take the "negativity" surrounding him but on one tough night it was the love of his fans that made him realise he could change his life.
He added: "There was incident in Miami on New Year's Eve where I was with my family and a bunch of my friends at a table. And there's a bunch of negativity about the food being bad, you know the champagne didn't work, even though it was all consumed.
"And when I walked outside, some kid ran up and hugged me and was like, 'Oh I grew up watching you. I didn't have a dad, you're like a dad to me.' And there was another person that said, 'Hey Hulk, we love you.'
"And I went, 'Oh my God' - it was right then ... once I walked back inside again, I realised I couldn't take it anymore. I got sick and tired of being sick and tired. I got sick and tired of the hating, the negativity, the verbal abuse - just everything that I was hearing."
Hulk and Linda eventually divorced in 2009 and he went on to marry Jennifer McDaniel. He also worked for 'TNA IMPACT' wrestling from 2010 to 2013.
Nick served eight months in jail for reckless driving, while John will require 24-hour a day care for the rest of his life as a result of his injuries.
Speaking about the accident in 2010, Nick said: "I pray every day that I will be able to deal with it. It's still at this point it's too much to think about. It's something that I carry with me every day."