'I Don't Read Or Write': Courtney Stodden Shoots Down Tell-All Book Idea To Bethenny Frankel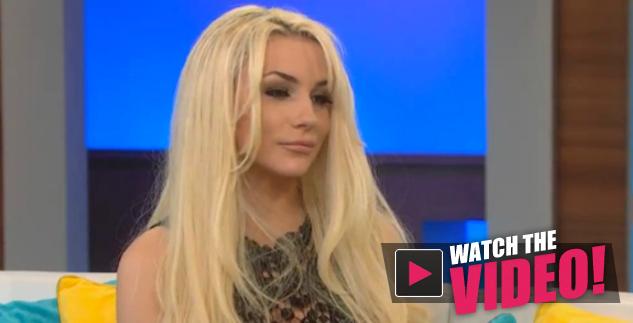 Doug Hutchison doesn't have to worry about his Teen Bride revealing all his dark secrets because Courtney Stodden told Bethenny Frankel that it would be impossible for her to write a tell-all book because she doesn't "read or write."
The buxom blonde wore a revealing black dress and obligatory stripper heels while she sat down with the conservatively dressed Frankel on her ratings-challenged talk show and said that she isn't doing porn and he even turned down a whopping $5 million offer to have sex on camera.
Article continues below advertisement
"So you said earlier that you want to go back to being a 19 year old and that you turned down porn videos," Frankel said to her in the confrontational interview.
"You come here you have very blond extensions, you have very large breasts, a very short skirt, you come in looking like you could be at a strip club." Frankel then compliments the teen, saying: You're beautiful, you're a beautiful girl and you are being very open and I appreciate that but I just have to say what I see, lay it on the line, you look very promiscuous and you look like the next move should be to do a porn video, that would be the right thing to do, this is the way you are marketing yourself. I think you have a book coming out or reality show?" And despite the report that she was threatening to write a tell-all book, the girl who once told RadarOnline.com that if she went to college she would study Doug.
"I don't have a book coming out that's a rumor. I don't read or write."
Stodden admitted earlier this year that she had filmed her own solo sex tape but that it would never be released to the public and admitted that she's not going into porn anytime soon.
"No that's the not direction I'm taking. Trust me the second I turned 18 the entire porn industry turned upside down, Vivid, all of them, I turned down a $5 million porn offer about three months ago."
Bethenny's tell-all interview with Courtney Stodden airs on Friday, November 15th, 2013. Please visit bethenny.com to find out when and where it airs in your city.