Michael Jackson's Kids Will NEVER Forgive Conrad Murray, Relative Says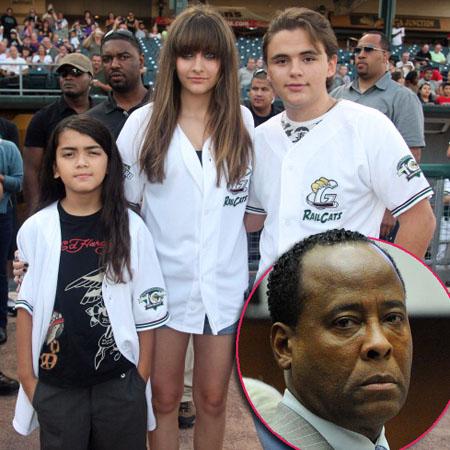 Michael Jackson's children will never forgive Conrad Murray over the role he played in their father's death, according to their cousin, RadarOnline.com has learned.
The King of Pop's niece Tanay Jackson, the daughter of Michael's brother Tito, insists the family are extremely unhappy the former doctor was released from jail in October after serving less than two years of a four-year sentence for the involuntary manslaughter the King of Pop in June 2009.
Article continues below advertisement
Most upset are Michael's kids, Prince, 16, Paris, 15 and 11-year-old Blanket, who think it's a disgrace Murray, 60, is out of prison and is trying to regain his medical license after being found guilty of administering the fatal dose of anesthetic Propofol that ultimately killed the "Thriller" singer.
Tanay told the New York Daily News newspaper's Confidenti@al column: "I think a murderer should get a longer sentence than that, I don't think it's fair. We really feel like there were more people involved in my uncle's death. But Conrad Murray is the physical culprit because he physically injected him.
"No, we haven't forgiven him. We can't forgive him at all. I categorized that person as a murderer. I categorize him as somebody who got away with murder. People in those categories I just can't forgive. He should not be able to practice medicine. He was a physical culprit for the death of Michael. That's a big joke to us that he wants to re-apply for his medical license."
Tanay, 29, thinks the "Beat It" singer's daughter Paris has taken Murray's release the worst, as she is still struggling to come to terms with the death of her father four years ago.
Article continues below advertisement
Aspiring singer Tanay says Paris -- who was hospitalized after alleged attempted suicide bid in June -- is a teenager trying to cope with adult problems and has resorted to self-harming on occasions as a coping method.
Tanay said: "Paris is going through a lot of emotional torment. She is under a tremendous amount of pressure. She is trying to find a way to escape and it doesn't seem like anyone knows what to do. This is a 15-year-old going through a 40-year-old's problems. There are a host of problems that Paris can't handle alone.