Debbie Rowe Testifies Daughter Paris Jackson Is 'Devastated' After Dad's Death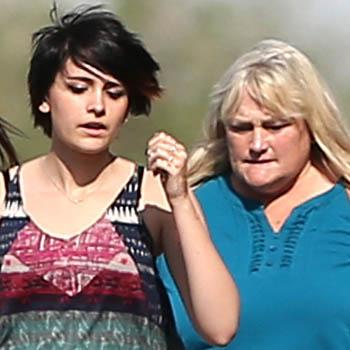 On a second day in the witness box, Debbie Rowe told jurors deciding the fate of Katherine Jackson's wrongful death lawsuit against AEG Live that her 15-year-old daughter Paris was devastated after the death of her father Michael.
When asked how Jackson's death affected Paris – who tried to take her own life earlier this year -- an emotional Rowe responded: "She is devastated… She has no life. She doesn't feel she has a life anymore."
Article continues below advertisement
Jackson's ex-wife also revealed that she had been in daily contact with Paris leading up to the suicide attempt. Paris remains in a residential treatment facility at an undisclosed location.
The horse breeder also told jurors she grew concerned about Jackson's frequent doctor visits to Dr. Arnold Klein's office, where she had once worked.
"I didn't understand why he would come in twice in one week. I didn't necessarily see what he wanted to have done," said Rowe, adding that she was concerned he might be in search of drugs rather than treatments for blemishes with collagen injections, Associated Press reported.
Concert promoter AEG Live called Rowe to testify.
But she she wouldn't have come to court unless she had been subpoenaed. She also declared that she wasn't testifying for either side.
The Jackson family matriarch contends AEG is responsible for the singer's death, because it failed to properly supervise & investigate his personal physician, Conrad Murray. Murray was convicted of the involuntary manslaughter death of Jackson.
Thursday was the 70th day of testimony in the lawsuit and last week the judge told the jury they wouldn't begin deliberations until late September.