Exclusive
Debbie Rowe Threatens To Sue Michael Jackson Doc After He Claims She Stole Painkillers!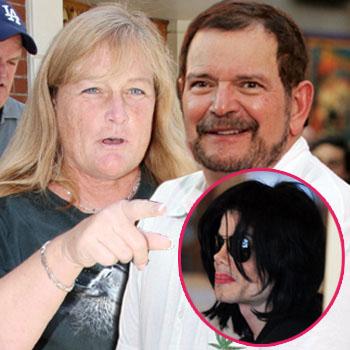 Debbie Rowe and Dr. Arnold Klein are involved in a bitter war of words after he claimed that she stole the narcotic painkiller Demerol from his office to give to Michael Jackson, and RadarOnline.com has exclusively learned Paris Jackson's mom is threatening a lawsuit against the doctor.
The disgraced dermatologist employed Rowe as his nurse in the 1980s, which is where she was first introduced to Jackson.
Article continues below advertisement
Klein wrote on his blog Monday: "Debbie Rowe was giving Michael Demerol she stole from my office. She is a fraud! Just look at here."
And when Rowe saw the post she retaliated in a flurry of tweets saying that she was going to sue Dr. Klein for the comments and claimed he was just attempting to deflect the attention from himself.
"So Klein wants to accuse me of stealing a controlled substance hmmmm I should probably be in prison since it's a felony yet I'm not," Rowe tweeted on Monday.
"You can't stop the truth it's an injustice that Klein will never be tried for his involvement. He is a spineless enigma with a deadly touch."
When one follower suggested Rowe take legal action writing, "but couldn't he be for accusing you falsely. Can't you do something legally with that?" she responded by tweeting, "I'm gonna."
Rowe also claimed that Klein has been seriously ill for years and it's an injustice that he's never going to stand trial for Jackson's 2009 death.
Article continues below advertisement
But Rowe blames Klein and, according to her, Klein had a standing order from Michael — when he came to the dermatologist's office, he would be injected with Demerol and Vistaril, an anxiety sedative.
She has always believed it's been Klein's influence, which led to Jackson's dependence on prescription drugs.