Exclusive
Child Protective Services Question Denise Richards Over Allegations About Brooke & Charlie's Twin Sons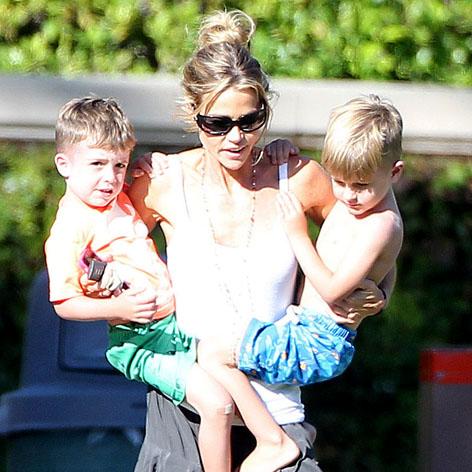 Article continues below advertisement
"Denise has made multiple attempts to get the boys properly assessed by a medical professional, but has been blocked by Mueller. She voiced her concerns before Denise sent the letter, but was met with no response. It was only after the letter was made public, along with pictures of an injured Bob that the department finally responded to Denise's pleas for help....but it is being met with skepticism."
However, a source close to Sheen scoffs at the department's contention that Richards is exaggerating or misleading officials.
"Denise isn't a liar, and certainly isn't misleading anyone about the severity of the disturbing behavior of the boys. She has done nothing but try and help Bob and Max. The idea that Denise would be anything but honest is insulting and a slap in the face, especially after everything she has gone through," the insider said.
Article continues below advertisement
"She has been dragged through the mud by Brooke and her lawyers. The department is just trying to cover their a** now that the Brooke is close to getting the boys back, and they realize they have dropped the ball."
The Los Angeles County of Department of Children & Family Services has called an emergency meeting between Mueller and Richards to determine if a peace deal can be struck regarding custody of the 4-year-old boys.
She detailed how recent contact with their mother, Mueller, had transformed them from "kind and loving" young boys to "zombie-like" boys who exhibit "extreme violent mood swings" and "violent behavior."
According to Richards, her daughters had been "strangled, kicked in the head and stomach, scratched, bit, slapped, punched in the face and head" and spat on by the boys, as have the family dogs.
"With no authority to make decisions on their behalf, I feel my hands are tied in providing them the proper help, support, and care that I feel as a parent that they need," the Wild Things star wrote.