Exclusive
Backfire: Charlie Sheen's 'Awful Parent' Criticism Of Ex-Wife Could Result In Her Regaining FULL Custody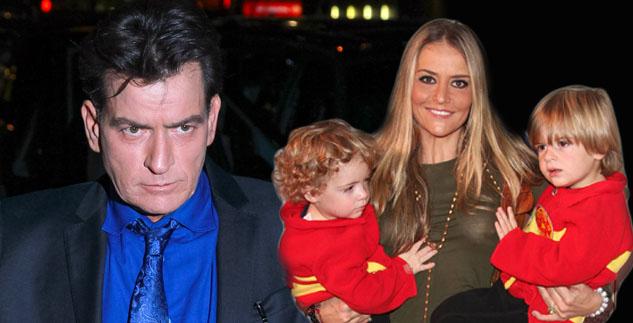 Charlie Sheen's epic rant during which he called ex-wife Brooke Mueller an "evil and pathetic über loser wh*re" could backfire in the most sensational way against the highly-paid actor, RadarOnline.com has learned: The drug-troubled mother-of-two could have FULL custody reinstated because the actor violated a gag order preventing him from discussing the case.
"It's been Brooke's contention all along that Charlie has been out to get her and wants Denise to raise her sons," a source close to the case told RadarOnline.com.
Article continues below advertisement
"In the wake of Charlie's comments, expect Brooke's lawyer's to go to the judge in child dependency court immediately and ask that the boys be taken out of Denise's guardianship and given back to Brooke.
"Charlie's actions have drastically improved Brooke's chances of getting the boys back."
As RadarOnline.com reported, Sheen posted a blog on Thursday night during which he called the Department of Children & Family Services workers in his case "inept and retarded doosh sic bags."
He called the process that he engulfed his twins, Bob, 4, "an abhorrent d**k dance that has NOTHING to do protecting any child."
Sheen, 48, wrote that DCFS workers are "swayed by the evil and patheti über loser wh*re that calls herself Brooke," promising "there will be a reckoning" and "a whirlwind."
Said a source: "While Charlie might have had the best intentions because of his frustration with the DCFS, he has clearly violated the judge's order to not discuss the case publicly.
Article continues below advertisement
"The months of hard work are now down the tube... Charlie played right into Brooke's hands that prove her claims that the boys could be told that she is a horrible mother.
"The judge in child dependency court could come down very hard on Charlie. That could hurt the boys the most. They are going to be uprooted from a loving and safe home and placed back with Brooke, much sooner than if he hadn't gone public."