'I'm Done, Done, Done!': 'Mentally Exhausted' Teresa Giudice Pleads To Stop Feud With Sister-In-Law Melissa Gorga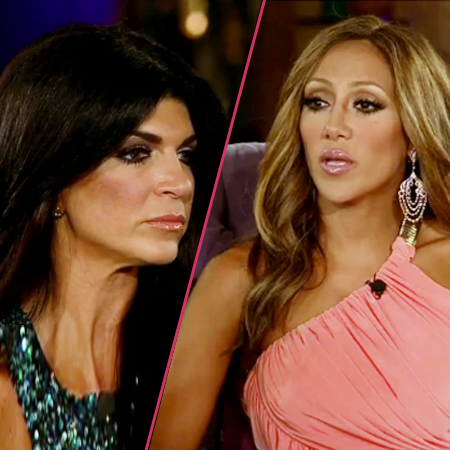 Teresa Giudice has officially reached her breaking point in her longtime rivalry with sister-in-law Melissa Gorga.
In a preview of the upcoming reunion special for The Real Housewives of New Jersey, the hair care entrepreneur vents about the long-running feud that has shaken her family to its' very foundation.
The outburst occurred after pot-stirrer extraordinaire Andy Cohen asked Teresa how the Gorgas were supposed to process the inflammatory rumors about them linked to Penny Drossos, with the underlying implication that Teresa was the source of Penny's "inside info."
Article continues below advertisement
Teresa tried to distance herself from Penny, saying that, "It's so black and white you can see" her innocence in the matter.
"She's been trashing them for two years, on Twitter," Teresa said of Penny. "And then, all of a sudden, she turns on me because obviously, she didn't get any reaction out of them."
Teresa said Penny was sticking her nose in, in hopes of procuring a coveted spot, or at least screen time, on the Bravo reality hit.
Despite Teresa's denials, Melissa remained skeptical that her sister-in-law's hands were completely clean of the mud Penny slung their way, telling Teresa that Penny characterized herself and Teresa as "this team that had this machine going."
That's when Teresa exploded, waving a white flag, so to say, in the long-running back-and-forth with Melissa.
"How do we stop this? Because it keeps going around and … I'm exhausted. I'm done, done, done! I'm done defending myself, I'm mentally exhausted!" she yelled.
Watch the video on RadarOnline.com
The Real Housewives of New Jersey's reunion special airs Sundays on Bravo at 8/7c.