One Bad Penny! RHONJ Star Jacqueline Laurita Says Penny Drossos & Husband Are 'Media Wh***s, Trying To Get On The Show'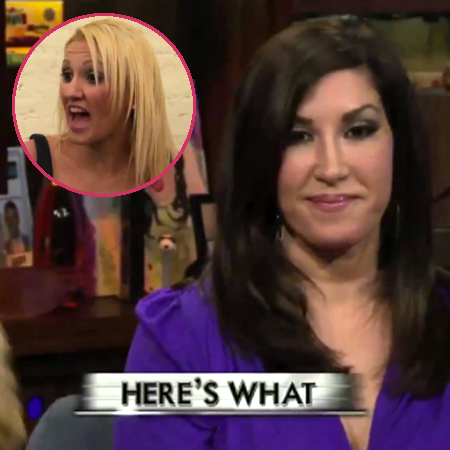 Jacqueline Laurita implied that her Real Housewives of New Jersey enemy Penny Drossos, is more than sketchy!
"I think Penny and her husband are definitely media wh***s, trying to get on the show," Jacqueline told Watch What Happens Live host Andy Cohen about the recurring RHONJ hanger on and her husband, Johnny Karagiorgis.
Penny and Johnny allegedly gossiped that her son Nicholas didn't really have autism.
Article continues below advertisement
And on Sunday night's RHONJ, Jacqueline confronted Penny about nasty Tweets, which she rather confusingly denied.
Meanwhile, Jacqueline wanted to "plead the fifth" on Penny's accusation that Teresa Giudice was behind all the gossip surrounding Melissa Gorga.
Jacqueline was joined on Andy's talk show by Live daytime co-host and housewives fan Kelly Ripa, -- and they all laughed about how Penny said on RHONJ that she loved autistic kids "to death" and "taught" autism.
"Is that a course?" Andy asked.
When questioned if she'd resolved things with Penny, Jacqueline said, "Not yet."
The Jersey housewife told fans her son Nick is "doing really well.
"He's progressing. His vocabulary has increased a lot. He's learning to put words together. He's spelling on his own. He's reading, more eye contact, focusing more on others. It's positive."
After having patched things up with Teresa, Jacqueline told viewers, "I think we're on really good terms. Our lives have changed since we were friends before. Since we've stopped filming, we have texted each other here and there.
Article continues below advertisement
Jacqueline said they're both so busy that "we haven't been able to spend a lot of time together because our lives are different now. So it's different but we're in a good place."
But as viewers know, Teresa and her husband Joe aren't in a good place, legally-speaking!
And Andy showed a brief preview of next Sunday's Watch What Happens Live, in which Teresa and Joe will have to answer some tough questions after the RHONJ finale airs.
Andy teased fans with some of the questions, but didn't show Teresa and Joe giving the answers.
"What have you told your kids about the charges?" Andy asks as Teresa weeps.
"I think anyone who watches the show wonders if you would consider letting your brother and Melissa take care of them if it came to that.
"Do you think you could survive in jail?"
Watch What Happens Live airs Sunday through Thursday on Bravo at 11/10c.