'Hardly A Reliable Source': Melissa Gorga Slams Penny Drossos, 'RHONJ' Costar Who Started Nasty Cheating Rumor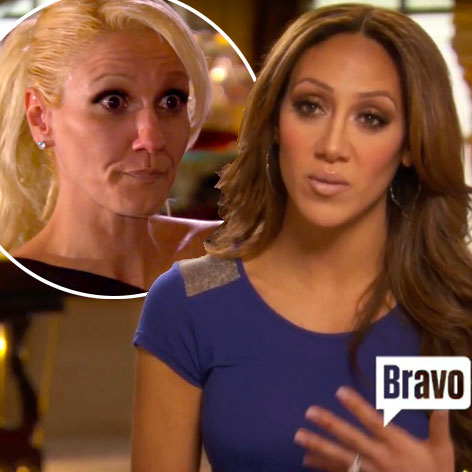 Article continues below advertisement
"It was your sister," Penny told Melissa. "She asked me if I knew who **** was, and then she said to me, 'Can you confront my brother about it?'"
In her blog, Melissa admits that after talking to Penny, she's confused as to how much truth, if any, Penny is getting out there.
"Penny was pretty open with us about who she'd been talking to about me, but she is hardly a reliable source," the beauty, whose singing aspirations were also chronicled in the episode, wrote. "As you can see I was very skeptical about her.
"I asked my questions and she gave me her answers. Whether those answers were just another flat out lie, we didn't know. There was Penny's side and Teresa's side," she said, conceding that "the truth was probably somewhere in the middle."
She said that the revelation really didn't spark new animosity against Teresa after the two decided to bury the hatchet after a long and bitter feud.
"Penny's news that night wasn't earth-shattering for Joe and me," Melissa wrote. "When I decided I was going to let go of the past issues with Teresa, I pretty much knew what I was moving on from."
The Real Housewives of New Jersey airs on Bravo Sundays at 8/7c.